NEW 'BATMAN: THE KILLING JOKE' TRAILER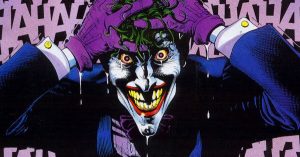 Warner Bros. has released a new trailer for its adaptation of Batman: The Killing Joke, which is due out later this year.
As Batman hunts for the escaped Joker, the villain unleashes a wave of madness on the kidnapped Gordon family to prove a point about how thin the strings of sanity really are.
The graphic novel has been a hot seller of late, with the new deluxe edition hardcover of the graphic novel landing at #4 on March's BookScan Top 20 and coming in at #21 on the direct market chart.