Marvel Debuts First "Luke Cage" Footage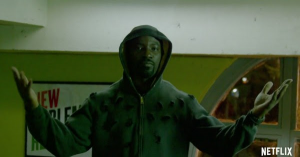 So, you couldn't make it to Comic-Con International in San Diego? Don't worry, Marvel Television has you covered, releasing the first look at footage from Netflix's "Luke Cage" moments after the show's panel concluded.
The video is a proper trailer for the series, opening as Luke is wrestling with his conscience, debating whether the life of a hero is for him. Ol' Dirty Bastard's "Shimmy Shimmy Ya" kicks in as the rest of the teaser unfolds, and Luke unleashes his powers on those who deserve it.
Also starring Mahershala Ali as Cottonmouth, Rosario Dawson, reprising her role as nurse Claire Temple, Sonia Braga as Soledad Temple (Claire Temple's Mom), Frank Whaley as Detective Scarfe and Simone Missick as Misty Knight, "Luke Cage" drops September 30 on Netflix.
"Luke Cage" debuts on Netflix on September 30.