Universal unveils Jurassic World: Fallen Kingdom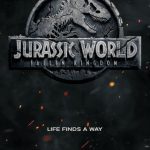 CHRIS Pratt and Dallas Bryce Howard are reprising their Jurassic World roles as Owen Grady and Claire Dearing in Fallen Kingdom, the sequel to Jurassic World, the 2015 reboot of the hugely successful Jurassic Park franchise. Lined up for a June 6 release in the UK (June 22 in the US), the Universal/Legendary Pictures movie is directed by J.A. Bayona, whose most recent credit was 2016's A Monster Calls.
Written by Jurassic World director/writer Colin Trevorrow and Derek Connolly (who was also among the writing team on that 2015 film), Jurassic World: Fallen Kingdom is the fifth licenced movie  based on Michael Chrichton's 1990 novel of the same name since Stephen Spielberg launched the series in 1993.