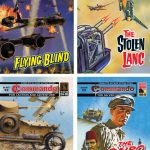 Commando – 4975 – Flying Blind
Sergeant Owain Howell was too headstrong for the R.A.F. Charged with insubordination, he found himself consigned to the ground crew, servicing the planes he had once hoped to fly. Travelling with his crew to Africa, he was shot down and stranded in Italy.
Squadron leader Leonard Brinkley, on the other hand, was a cool and experienced pilot. However, after a raid went disastrously wrong, Leonard found himself a Prisoner of War; unable to see, and unable to escape. Continue reading →
James Bond: Hammerhead #3
writer: Andy Diggle
artist: Luca Casalanguida
covers: Franceso Francavilla
Fans & retailers, order the cover of your choice!
FC • 32 pages • $3.99 • Teen+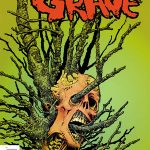 Shadows on the Grave #1
The master of supernatural horror is back with bizarre tales of terror in his signature black-and-white style. Running through the entire series is the continuing story of Corben's new warrior character, Denaeus, reminiscent of his best-loved creation, Den from the classic Heavy Metal series.
* New stories from 2012 Eisner Hall of Fame award winner Richard Corben! Continue reading →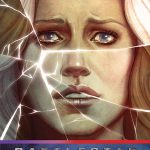 Battlestar Galactica: Six TP
writer: J.T. Krul
artist: Igor Lima, Rod Rodolfo
cover: Jenny Frison
FC • 128 pages • $19.99 • Teen+
COLLECTS ISSUES 1-5!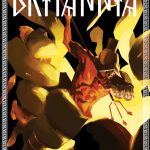 Final Fates!
Antonius Axia's nightmarish journey through the heart of the remote Roman colony of Britannia has brought him to death's door. But when the world's first detective confronts his deepest fears about gods, men and civilization, will he be able to complete the mission given to him by Emperor Nero, or will his mind collapse under the unfathomable weight of the void that now stands revealed before him? Continue reading →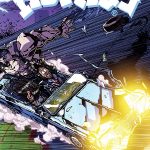 Homies #3
writer: David Gonzales, Elliot Serrano
artist: Andrew Huerta
covers: Andrew Huerta "Wraparound"
incentive cover: Andrew Huerta (B/W art)
FC • 32 pages • $3.99 • Teen+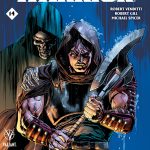 Out of the abyss…and into oblivion!
Gilad Anni-Padda has faced tanks, trenches, and legions many thousands strong. Now, true peace is finally within reach of the man that myth calls the Eternal Warrior… but, to claim it, he must undertake a mission beyond the grasp of any mortal soldier…and rescue the soul of his long-lost son from the underworld. But to venture into the land of death itself means suicide even for an immortal master of war… and the cruel being known as the Pale Herder intends to make sure that this time, Earth's Fist and Steel stays dead once and for all… Continue reading →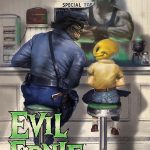 Hell has gone to hell with the arrival of the Godeater, and Ernie has one last chance to stop it before it's too late: he has to bring Heaven down to the pits! Justin Jordan, fan-favorite writer of The Strange Case of Luther Strode, continues his mind-blowing Chaos Comics epic! Meanwhile, in Chapter Four of our "Last Ditch Bitch" back-up story: How do you save death metal rocker Liv Halvorsen from the goddess Mistress Hel? Special guest star Chastity wrestles with the dilemma… while fighting tooth and nail against the Dead Onez! Continue reading →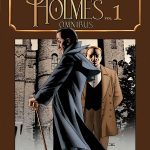 COLLECTS TRIAL OF SHERLOCK HOLMES, LIVERPOOL DEMON, AND YEAR ONE
Presenting three captivating mysteries of Arthur Conan Doyle's beloved sleuth, Sherlock Holmes, in the first-ever Omnibus collecting his comic book adventures! From young Holmes' first encounter with Dr. John Watson, to the detective's role reversal as a suspect for murder, to a rash of Liverpool killings seemingly committed by a supernatural entity, the finest whodunnits in the Dynamite Entertainment library begin with this very volume! Continue reading →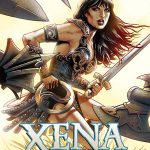 To the thrill of rabid fans the world over, television's Xena: Warrior Princess is back for swashbuckling new adventures! After the Twilight of the Gods, the world is precariously uncertain, and Xena and Gabrielle have been missing for twenty-five years. The power of Rome is growing; Caesar is determined to conquer by lies what he can't conquer by force, and the people at its edges know what's coming. Our heroines return to stop him before they have to wage war against a man they once called a friend… Continue reading →