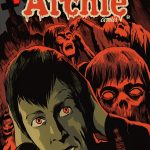 The highly anticipated ninth issue of the cult-hit horror series AFTERLIFE WITH ARCHIE has sold out at Diamond Comic Distributors and is going back to print with an all new cover by Francesco Francavilla!
Readers and comic shops have been buzzing about AFTERLIFE WITH ARCHIE #9 which takes an in-depth look into Reggie Mantle, the one responsible for the zombie apocalypse facing Archie and the rest of the world. Continue reading →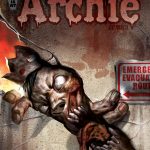 AFTERLIFE WITH ARCHIE #9
BETTY: RIP Pt. 4, "The Trouble with Reggie." The Horror began in Riverdale when Reggie Mantle struck and killed Jughead's beloved pooch Hot Dog. Since then, Reggie has been living with this secret knowledge—and terrible guilt. With no one to talk to about it, Reggie has started to crack under the strain. He is seeing visions of his dead friends—or are they literal ghosts? When an act of kindness prompts a confession from him, Reggie must decide for himself, once and for all—is there any good within him? Or is Reggie, as we've always suspected, beyond redemption? For TEEN+ Readers. Continue reading →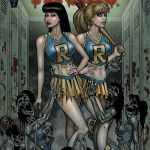 AFTERLIFE WITH ARCHIE #10
BETTY: RIP Pt. 5, "Interlude with the Pussycats" Before the end of the world began, a female pop trio was setting charts on fire. But in a world of TMZ and paparazzi-driven media, somehow these women kept their private lives a secret from everyone—until now. A full-access interview promises to show the tragic and terrifying origin story of Josie and the Pussycats. For TEEN+ Readers. Continue reading →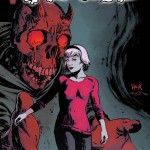 There are some things in this world that mortal eyes should never witness — that's a lesson poor Harvey Kinkle will learn the hard way, when he makes the unfortunate mistake of intruding on the darkest of ceremonies — an offense that the witches' coven takes very seriously. Though Harvey's life hangs in the balance, it is the Spellman family that will come face-to-face with true evil. Indeed, the choices made by teen-witch-in-training Sabrina on this dread night will determine the fate of every living soul in Greendale. Continue reading →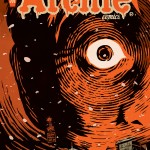 "A Ghost Story." Contrary to popular belief, the current zombie outbreak is not the first time a shadow fell across Riverdale and its citizens. Continue reading →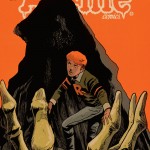 "Betty R.I.P. Part Two: Dear Diary…"
THE SMASH HORROR HIT CONTINUES WITH AFTERLIFE WITH ARCHIE: SEASON TWO!
It's been weeks since Archie and his friends left Riverdale. Now, they are wandering the deserted highways of America, one step ahead of the ever-pursuing vicious zombie horde. When they decide to set down roots to observe their first post-apocalypse Thanksgiving, Mr. Lodge leads a team into the forests of Pennsylvania to find dinner, but the hunters soon become the hunted, and not all of the gang will make it out of the woods alive… Continue reading →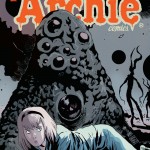 "Witch in the Dream House"
The unthinkable has happened: Riverdale has become ground-zero for the zombie apocalypse, and the surviving members of our gang have been forced to flee their beloved home. Continue reading →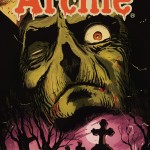 COLLECT ISSUES 1-5!
When Jughead's beloved pet Hot Dog is killed in a hit and run, Jughead turns to the only person he knows who can help bring back his canine companion — Sabrina the Teenage Witch. Continue reading →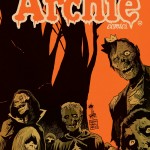 Take a Look at "Escape from Riverdale," Part 5 of 5!
The do or die moment has arrived! With Lodge Manor under siege by flesh-eating zombies, and the rest of Riverdale in flames, the surviving members of our beloved gang must make a fateful decision: Do they stay in the only home they've ever known, or take their (slim) chances in the outside world? And if they go, where will they go? And does that mean they leave their undead pals 'n gals behind forever? The most earth-shattering decisions will be made in Riverdale history in the newest installment of this TEEN + series! Continue reading →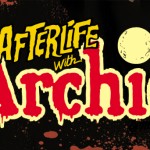 COMING SOON!
Check out a teaser for the fourth issue of Afterlife With Archie, out soon! Continue reading →