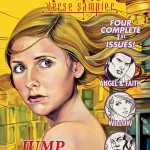 DARK HORSE OFFERS BUFFY FANS THE CHANCE TO CATCH UP WITH THE CAST OF SEASON 9 IN ONE VALUE-PRICED SAMPLER! 
BUFFYVERSE SAMPLER TO FEATURE FULL FIRST ISSUES OF BUFFY SEASON 9, ANGEL & FAITH, SPIKE, AND WILLOW!
Dark Horse offers fans and retailers alike the perfect jumping-on point for all of the titles in Buffy the Vampire Slayer Season 9!