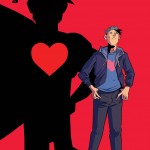 Riverdale High was just the beginning as Principal Stanger's despotic reach shuts down Pop's Shoppe! Jughead and the gang need to stop him once and for all! Maybe with the help of the SuperTeens and… Iron Mantle?? Continue reading →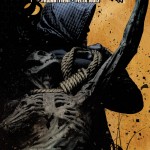 "Damned, Part 4" Mike Minetta has not been the Hangman long but he already faces the hardest decision any Hangman has ever had to make—let his family die… or save them and defy the will of Heaven and Hell itself! Continue reading →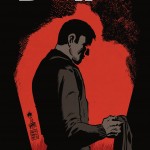 "The Lonely Crusade, Part 4" When he donned the Black Hood, Greg Hettinger swore to keep the awful truth from those he cares about most—his partner Devon, his friend Jessie. But he's going to have to break those promises if he's going to survive the death trap that the Crusaders have prepared for him… and nothing will ever be the same. Continue reading →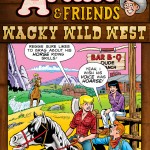 YEE-HAW!  It's time to wrangle up Archie and his pals for this new digital exclusive collection! This time, the gang is moseying around in the Ol' West, roping cattle and having milkshakes down at the saloon. Can the gang protect the town from the rowdy outlaws that wanna run this town?
Continue reading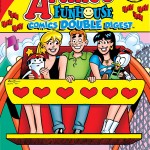 Archie's best (non-human) pal Vegas is excited for a day at the dog park—except that Mr. Oswald T. Clump, a millionaire mogul who's come to Riverdale, is threatening to tear down the dog park in favor of putting up his own Clump Plaza! This looks like a job for the pets of Riverdale! With a little bit of luck, will they be able to save their park, or will it be a ruff ride for our fearless furry friends? Find out in "Dog Walk, Don't Run," the fun lead story to this comics double digest! Continue reading →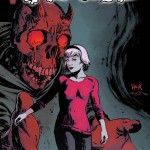 There are some things in this world that mortal eyes should never witness — that's a lesson poor Harvey Kinkle will learn the hard way, when he makes the unfortunate mistake of intruding on the darkest of ceremonies — an offense that the witches' coven takes very seriously. Though Harvey's life hangs in the balance, it is the Spellman family that will come face-to-face with true evil. Indeed, the choices made by teen-witch-in-training Sabrina on this dread night will determine the fate of every living soul in Greendale. Continue reading →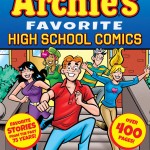 Continuing the tradition of the TOP SELLING Best of Archie series, ARCHIE'S FAVORITE HIGH SCHOOL COMICS takes readers into a world of laughter and discovery with full-color story gems about Archie, Betty, Veronica and friends and their trials and tribulations at Riverdale High School! This title reveals a special treasure trove of over 400 pages of classic hand-selected Archie Comics stories and is designed for both kids and adults to discover and enjoy together. This collection is a must-have for all ages! Continue reading →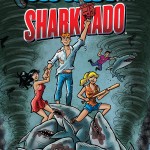 It's that time of year in Riverdale! The end of the school year.  Time for beaches, barbecues, fun in the sun and… SHARKNADOS!?!  That's right, get ready as Archie and the gang brave the storm of a tornado full a sharks that riffs off the pop culture phenomenon known as Sharknado! The story unfolds as sharknados are spotted on the "Feast" Coast! Our heroines have to figure out how to get back to Riverdale, where the storm is about to hit next. Soon Archie and the gang go, go, go as they battle the Sharknado-ravaged Riverdale! Who will live? Who will die? Will this take a BITE out of the end-of-the-year prom? Uh….probably! Continue reading →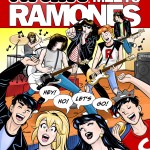 Hey! Ho! Let's Go! Coming in 2016, the classic rock group THE RAMONES and everyone's favorite red-head will be crossing over in an extra-sized adventure!
Coinciding with the 75th anniversary of Archie Comics and The Ramones' 40th anniversary, the new comic follows in the tradition of Archie Comics crossovers like ARCHIE MEETS KISS and ARCHIE MEETS PREDATOR. Continue reading →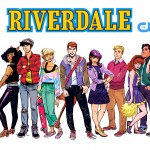 Just announced at Comic-Con International: San Diego 2015, Archie Comics released major details about the upcoming "Riverdale" live-action series.
Originally developed for FOX, "Riverdale"—a dark, twisty, one-hour drama based on the iconic "Archie" comic book characters, including Archie, Betty, and Veronica, as well as Josie and the Pussycats—is now set-up at The CW network, with the key players remaining the same: Warner Brothers is the studio, THE FLASH and ARROW chief Greg Berlanti is producing and Roberto Aguirre-Sacasa, Archie's Chief Creative Officer, is writing the pilot. Continue reading →