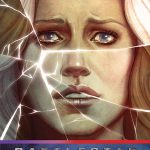 Battlestar Galactica: Six TP
writer: J.T. Krul
artist: Igor Lima, Rod Rodolfo
cover: Jenny Frison
FC • 128 pages • $19.99 • Teen+
COLLECTS ISSUES 1-5!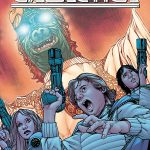 The Galactica has embarked on what might be its strangest adventure. Bizarre alien cultures. Old enemies–thought long lost–rising once more from the shadows. New, terrifying threats nipping at their heels. But perhaps the most surprising encounter is yet to come–as the Cylons approach the Colonial Fleet once more with an offer of peace. Continue reading →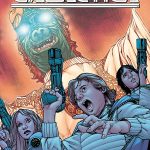 Publisher: Dynamite Entertainment
Writer: Cullen Bunn
Artist: Alex Sanchez
Colourist: Daniela Miwa
Release Date:  OUT NOW!
Price: $3.99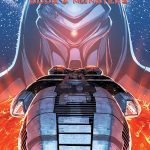 Hot on the heels of the release of the classic Battlestar Galactica series earlier this month, Dynamite announces the continuation of the Reimagined 2004 universe storyline with the release of Battlestar Galactica: Gods and Monsters this November! Karl Kesel and Alec Morgan team up for all new stories from the groundbreaking re-imagined series! Continue reading →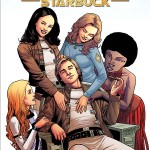 Finally, the origin of Lt. Starbuck can be told! Battlestar Galactica's roguish Viper pilot, unbeatable gambler, and notorious womanizer has always been a mystery. How did he wind up a feral child on the planet Umbra, and when did he first fight Cylons alongside Commander Adama? Continue reading →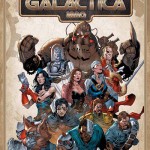 Publisher: Dynamite Comics
Writer: Tony Lee
Artist: Aneke
Editor: Joe Rybrandt
Release date: 28 October 2015
Price: $15.99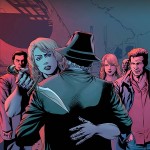 The crew of the Galactica, and the fleet as a whole, comes to terms with Apollo's shocking fate. But there is no time for reflection. Apollo's mission woke up the Cylon threat, and the old enemy has become aware of the fleet again. The War has turned hot again, the fleet is in grave danger, and without Apollo's pilot skills and leadership, the human race may not survive. Epic, continuity-shaking storytelling from cosmic fan-favorite writer Dan Abnett and out-of-this-world artist Dietrich Smith. Continue reading →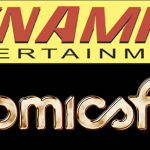 Featuring All-You-Can-Read Comics and Graphic Novels for $9.95 a Month
Dynamite Entertainment officially signs with Comicsfix to bring their expansive and versatile library to the subscription-based digital platform. Comicsfix gives readers access to unlimited quality comic book titles and graphic novels for all ages at a low monthly price. Continue reading →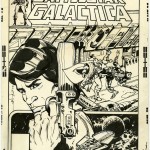 WITH JOSE GONZALEZ'S VAMPIRELLA, WALTER SIMONSON'S BATTLESTAR GALACTICA, AND EDGAR RICE BURROUGHS' JOHN CARTER: WARLORD OF MARS – THE MARVEL YEARS
Dynamite Entertainment proudly announces the expansion of their Dynamite Art Edition line to include three new high-end collections that meticulously reproduce the actual storyboard and cover artwork from classic 1970s comic books. Continue reading →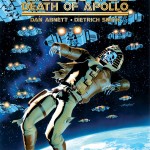 MARKS A MILESTONE IN OFFICIAL SERIES CONTINUITY!
Dynamite Entertainment is proud to reveal one of the biggest secrets of the Battlestar Galactica mythos in the upcoming miniseries event, Battlestar Galactica: The Death of Apollo. Scheduled for release this December, The Death of Apollo reunites the creative team of fan-favorite comic book writer Dan Abnett (one of the architects of the Guardians of the Galaxy phenomenon) and talented artist Dietrich Smith in a heartwrenching chronicle of the iconic Viper pilot's last days — an event hinted at during official TV series continuity but never before revealed. Continue reading →