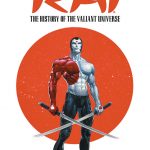 It is the year 4002 A.D…
Rai, the spirit guardian of Earth, has uncovered an ancient tome filled with history's greatest tales and civilization's darkest moments. Charting the dawning days of ancient Mesopotamia, all the way to the rise of New Japan, the history of the Valiant Universe is laid bare in shocking and revelatory detail. From X-O Manowar to Bloodshot to Faith to Divinity…history will reveal untold revelations for Valiant's greatest heroes and antagonists! Continue reading →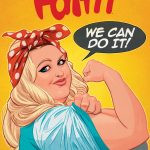 Valiant is proud to announce that renowned artist Joe Eisma (Archie, Morning Glories) is coming aboard the adventures of Valiant's spotlight-stealing hero for FAITH #7 – the FIRST ISSUE of a special, two-part jumping-on point! On January 4th, Eisma joins red-hot writer Jody Houser (Mother Panic) and Russ Manning Award-nominated artist Marguerite Sauvage (DC Comics Bombshells) for a thrilling, chilling, and downright spooky confrontation with a new foe raised from beyond the grave! This cadaverous criminal has a bone to pick with Faith…and they just may send the high-flying psiot six feet under! Continue reading →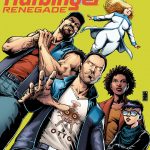 Anyone you know could become a psionically powered "harbinger" with the potential to reshape the course of human history. Your neighbor. Your boss. Your best friend. Your kids.
Six months ago, a secret team of renegade whistleblowers leaked the existence of these extraordinarily dangerous individuals to a stunned world. Today, all across the country, crude, DIY psiot activation attempts have left hundreds brain damaged…or worse. The emergence of a new psiot in a community often leads to riots and mass violence. Gun sales are through the roof. Continue reading →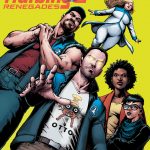 Valiant is proud to announce that HARBINGER RENEGADES #1 – the FIRST ISSUE of the all-new ongoing series from multiple Harvey Award nominee Rafer Roberts (Plastic Farm) and superstar artist Darick Robertson (The Boys, Transmetropolitan) – is expanding to a massive 40 pages to accommodate integral new contributions and bonus content from an all-star cast of special guests… All for the standard $3.99 cover price! Continue reading →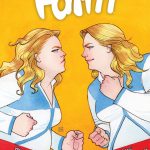 Comics! Cosplay! Crime! This comic book convention isn't what it appears to be…
From all across the world, fans have flocked to California's biggest comics convention…but they never expected to see real-life superheroes duking it out! When fandom's most important event becomes an all-out super-powered melee, can Faith "Zephyr" Herbert and her crossbow-wielding boyfriend, Continue reading →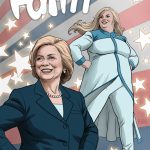 In advance of San Diego Comic-Con 2016, Valiant is proud to announce that Hillary Clinton, the Democratic Party's presumptive nominee for President of the United States, will join forces with Faith "Zephyr" Herbert on November 2nd in FAITH #5 – a history-making, 48-page election special teaming the leading female hero in comics today with the first female nominee from a major political party for a special tale written by comics legend Louise Simonson with art by FAITH's own Pere Perez! Continue reading →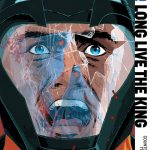 As the countdown to X-O MANOWAR's landmark issue #50 finale continues, our world's greatest hero must join forces with his own bitterest foe to prevent armageddon!
Valiant is proud to present your first look at X-O MANOWAR #48 – the cataclysmic continuation of the year's seismic storyline, "LONG LIVE THE KING," by New York Times best-selling writer Robert Venditti (Hal Jordan and The Green Lantern Corps) and acclaimed artists Joe Bennett (52) and Roberto de la Torre (Daredevil)! Continue reading →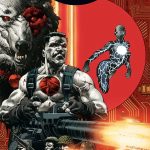 This July, Jeff Lemire and Mico Suayan come ashore on "BLOODSHOT ISLAND"…and begin the hunt for the sinister secret of DEATHMATE all over again!
Valiant is proud to present your first look inside BLOODSHOT REBORN #15! On July 13th, it's sun, surf, and suicide missions when New York Times best-selling writer Jeff Lemire (THE VALIANT, Moon Knight) and Valiant-exclusive superstar-in-the-making Mico Suayan (BLOODSHOT REBORN) plunge headlong into the next shocking chapter of "BLOODSHOT ISLAND"! Continue reading →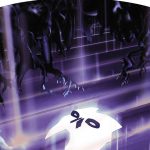 As Rai's rebellion against New Japan rages in the heavens above…a new Shadowman will rise to deliver justice to civilization's darkest reaches in our world and the next!
Valiant is proud to present your first look inside 4001 A.D.: SHADOWMAN #1 – a haunting new adventure bursting from the most ambitious comics event of the year and into an essential, standalone one-shot from rising stars Jody Houser (FAITH) and Rafer Roberts (A&A: THE ADVENTURES OF ARCHER & ARMSTRONG) and acclaimed artist Robert Gill (BOOK OF DEATH)! On July 6th, a blood sacrifice is made, a war looms, and the Deadsids rises…as the mantle of Shadowman passes to one of Earth's forsaken children in the ravaged world of the 41st century! Continue reading →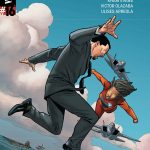 "STORMBREAK" explodes!
Toyo Harada has gone to war to save his vision of world peace from the twin threats of his former protégé Livewire and Major Charlie Palmer's H.A.R.D. Corps! Amid the chaos, the tables have turned…and now, members of Harada's own team are angling to knife each other in the back! When the villains trying to save humanity fight their noblest instincts and the heroes who are trying to stop them struggle against their own demons…can anybody win? Continue reading →