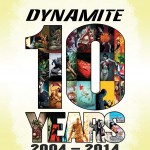 Priced in Honor of the Year Dynamite's Parent Company was founded!
Dynamite Entertainment continues to expand its digital presence with its latest Digital Comic bundle, offering 50 of its biggest comic books for a special anniversary price of $19.93 to celebrate the founding year of its parent company, Dynamic Forces. Continue reading →
In the year 1752, Joshua and Naomi Collins, with young son Barnabas, set sail from Liverpool, England to start a new life in America. But even an ocean was not enough to escape the mysterious curse that has plagued their family.