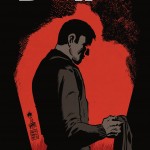 "The Lonely Crusade, Part 4" When he donned the Black Hood, Greg Hettinger swore to keep the awful truth from those he cares about most—his partner Devon, his friend Jessie. But he's going to have to break those promises if he's going to survive the death trap that the Crusaders have prepared for him… and nothing will ever be the same. Continue reading →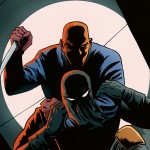 Publisher: Dark Circle Comics
Writer: Duane Swierczynski
Artist: Michael Gaydos
Editor: Alex Segura
Release date: OUT NOW!!!!!
Price: $3.99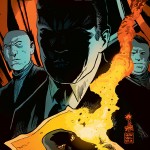 NEW ONGOING SERIES FROM DARK CIRCLE! –>
"The Bullet's Kiss, Part 3" The Black Hood is supposed to be dead. Shot, de-masked, autopsied, buried. So who's running around town in a ratty black hood, declaring war on the underworld? Continue reading →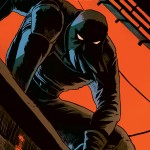 NEW SERIES FROM DARK CIRCLE! "The Bullet's Kiss, Part 2" The acclaimed crime series continues with another dose of deadly noir by two masters of the genre. Continue reading →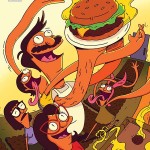 The Grand Finale of Dynamite's 10th Anniversary Celebration with over 140 Comics in Humble's Final Comics Bundle of 2014
Humble Bundle is excited to once again be teaming with Dynamite Entertainment after enjoying an incredibly successful partnership this past summer. Continue reading →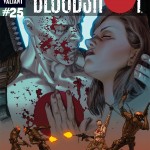 In the tradition of X-O MANOWAR #25, HARBINGER #25, and ARCHER & ARMSTRONG #25… a murderer's row of all-star talents is going all-in for an oversized, 48-page anniversary blowout chronicling the classified history of Valiant's most dangerous, most brutal, most relentless hero – BLOODSHOT!
Continue reading →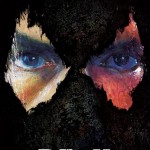 THE BLACK HOOD, THE SHIELD and THE FOX Ongoing Series Slated to Launch Early Next Year
Dark Circle Comics – the superhero imprint of Archie Comics – has revealed that the label's first wave of titles will include THE BLACK HOOD from writer Duane Swierczynski (Judge Dredd, X, Birds of Prey) and artist Michael Gaydos (ALIAS), THE SHIELD from writers Adam Christopher (The Burning Dark) and Chuck Wendig (Blackbirds) and artist Wilfredo Torres (The Shadow: Year One), and THE FOX from writer/artist Dean Haspiel (Billy Dogma, HBO's Bored to Death) and scripter Mark Waid (Daredevil, Kingdom Come, founder of Thrillbent). All three series will be ongoing and launch early next year. Continue reading →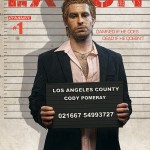 KEITH BURNS JOINS ON ART! TIM BRADSTREET ON COVERS!
Dynamite is proud to present the next book in a series of creator driven comics, featuring all new characters from the industry's best and brightest! Ex-Con is written by the acclaimed author Duane Swierczynski (Cable, Deadpool, Judge Dredd) – accompanied by the incredible art of Keith Burns! Continue reading →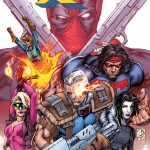 New Limited Series Set to Return the Merc With a Mouth to His 90s Roots!
This July, big guns, big pouches, and big action all return as your favorite mercenary goes toe-to-toe with that band of militant mutants in DEADPOOL VS. X-FORCE #1 – the first issue in a bombastic new limited series from writer Duane Swierczynski and artist Pepe Larraz! Continue reading →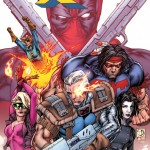 90's Mutants, muscles and munitions return for this time-jumping mini-series
Journey back to the days of the 1990s, when two characters debuted who would change the face of comics – Cable & Deadpool! Today, Marvel is proud to announce the exciting DEADPOOL VS. X-FORCE, a new limited series from the explosive creative team of Duane Swierczynski and Pepe Larraz! In this all-new tale, we learn of the pair's first meeting, well before their first comic book appearance in New Mutants #98, as Cable and his soon to be X-Force race through the timestream to stop the reckless mercenary Deadpool before he destroys American history for good!