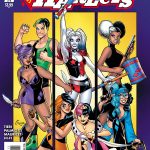 Publisher: DC
Writer: Jimmy Palmiotti, Frank Tieri
Artists: Alain Mauricet
Colourist: Hi-Fi
Editor: Chris Conroy, David Wohl
Release Date: OUT NOW!
Price: $3.99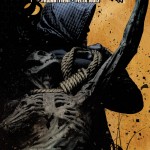 "Damned, Part 4" Mike Minetta has not been the Hangman long but he already faces the hardest decision any Hangman has ever had to make—let his family die… or save them and defy the will of Heaven and Hell itself! Continue reading →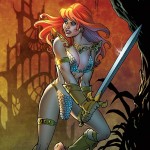 What is the Black Tower? What startling mysteries does it contain within its walls? And most shockingly… how will its very existence cause the death of Red Sonja? Continue reading →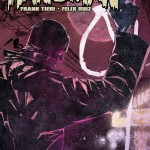 Publisher: Dark Circle Comics
Writer: Frank Tieri
Artist: Felix Ruiz
Editor: Alex Segura
Release date: 4 November 2015
Price: $3.99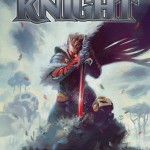 Their legend echoes through history. Ancient warriors and wielders of the legendary Ebony Blade. Champions of their own destiny. But what do you do when it's your destiny…to be damned? Find out this November as the creative team of Frank Tieri (Wolverine) and Luca Pizzari (Red Skull) bring you BLACK KNIGHT #1 – a brand-new ongoing series launching as part of All-New, All-Different Marvel! Continue reading →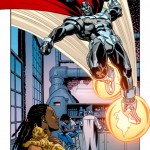 Earlier this month, we announced CONVERGENCE, DC Comics' two-month massive crossover event landing in stores in April. Last week, we revealed the titles and creative teams making up the first week of miniseries, which you can see here if you missed it. Well, fans and readers, it's time to pull back the curtain just a little further as we reveal the exciting wave of two-issue miniseries that will be released in Convergence Week Two! Continue reading →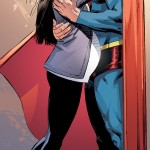 Last week DC Comics announced CONVERGENCE, the massively Multiversal crossover event that kicks off in April. Well, bit by bit we're learning more about it. Now, CBR and io9 have announced the first week of miniseries, complete with creative teams and very intriguing imagery. Continue reading →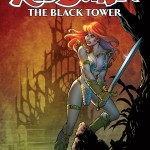 SHIPPING IN SEPTEMBER WITH COVERS BY AMANDA CONNER!
Join fan favorite writer Frank Tieri (SAVAGE WOLVERINE, DEADPOOL), artist extraordinaire Cezar Razek (RED SONJA/ WITCHBLADE), and captivating cover artist Amanda Conner (HARLEY QUINN), as they tell a decades spanning, mind-blowing tale that could spell the end for our favorite She-Devil with a Sword in Red Sonja: The Black Tower #1. Look for Red Sonja: The Black Tower #1 in stores and digitally this coming September! Continue reading →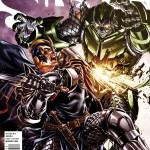 Black Knight, Howard the Duck and More Headline!
This June, go deeper into the secrets of the Marvel Universe in ORIGINAL SINS #2 – the next epic chapter in the 5-issue companion series exploring the mysteries and sins of your favorite Marvel Universe characters! Featuring some of our most requested characters of all-time, each issue of Original Sins shines a revealing light on the most wanted characters courtesy of the industry's top creators! Continue reading →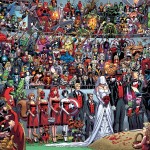 Deadpool's Getting Hitched!
Save the date! The Merc With a Mouth is about to become the Merc in Matrimony this April in the pages of the super-sized DEADPOOL #27 – from current Deadpool writers Gerry Duggan & Brian Posehn along with an epic assortment of past Deadpool writers! Continue reading →