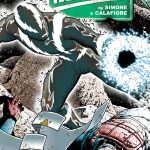 Publisher: Dark Horse Comics
Writer: Gail Simone
Artist: J. Calafiore
Editor: Patrick Thorpe
Release Date: OUT NOW!
Price: $3.99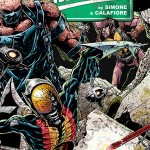 Publisher: Dark Horse Comics
Writer: Gail Simone
Artist: J. Calafiore
Editor: Patrick Thorpe
Release Date: OUT NOW!!
Price: $3.99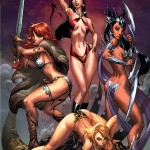 COLLECTS ISSUES ISSUES 1-6 OF THE MAIN SERIES ALONG WITH ALL 15 TIE-IN ISSUES AND MINI-SERIES!
Dynamite's fiercest females appear in a massive genre-spanning crossover event featuring an all-star line-up of female authors, headlined by Gail Simone (Batgirl, Birds of Prey)! The ultimate pulp adventure features Vampirella, Dejah Thoris, Red Sonja, Purgatori, Lady Demon, Chastity, Jungle Girl, Jennifer Blood, Kato, Lady Zorro, and many, many more! Continue reading →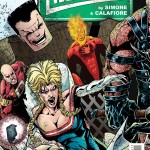 The Kickstarter phenomenon returns! Fan-favorite creators Gail Simone (Batgirl, Deadpool) and J. Calafiore (Secret Six, Exiles) return to the town whose citizens are hunted—not by villains, but by heroes! The survivors of Megalopolis reluctantly go back to the city—still under the control of formerly beloved superheroes turned brutal killers—on a rescue mission straight into the heart of madness. Get in on the ground floor of this critically acclaimed series and see what happens when the good guys go very, very bad. Continue reading →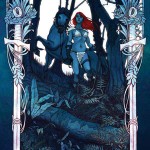 Publisher: Dynamite
Writer: Gail Simone
Artist: Walter Geovani
Editor: Joseph Rybrandt
Release date: OUT NOW!
Price: $3.99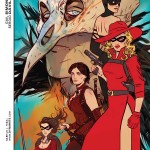 The wildest Dynamite crossover epic ever told continues at whole cities are smashed together in the prelude to inter-dimensional war! It's Martians versus Monsters versus Barbarians and more, with the women of Chaos on the wrong side of Good Vs. Evil…plus, where are Red Sonja, Vampirella and Dejah Thoris in their worlds' time of need? Guest stars galore in this massive tale of battle, blades and bikinis! Continue reading →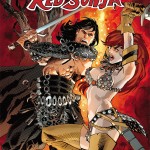 Comics superstars Gail Simone and Jim Zub!
Gail Simone and Jim Zub team up to bring together two legendary warriors: Conan and Red Sonja! This volume collects issues #1–#4 of the smash-hit crossover!
In a tale spanning three eras in the lives of these classic characters, Conan and Red Sonja become comrades to take down a sorcerer-priest hell bent on creating a new age in Hyborian warfare! Continue reading →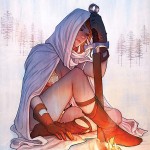 This intense issue finds the She-Devil in the grip of an obsession for revenge that is so all-consuming, she barely recognizes herself! What happens when the mightiest warrior finds the man who destroyed her life? Can even RED SONJA return from darkness this complete? Continuing the suspenseful FORGIVENESS OF MONSTERS storyline, taking Sonja to places she has never, ever been before! Continue reading →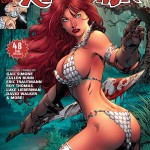 Since her fearless debut in 1973, the She-Devil with a Sword has redefined the fantasy genre thanks to the efforts of acclaimed writers including Gail Simone, Roy Thomas, Luke Lieberman, and Eric Trautmann! Joined by first-time Sonja writer Cullen Bunn and a handful of amazing artists, these titanic talents each contribute tales of derring-do to this supersized, action-packed anthology. Everyone's favorite red-tressed heroine battles monsters, rivals, and ne'er-do-wells in Hyborian adventures retro-tinted to capture the flavor of her classic comics era! Continue reading →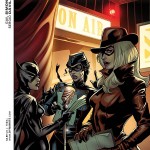 The genre-busting, time-hopping epic heroine crossover continues! In the midst of WWII, reluctant allies Miss Fury and the Black Sparrow are joined by an epic host of heroines from different worlds and eras to fight an invasion taking place right on Broadway! Featuring Red Sonja, Eva (the daughter of Dracula), Lady Zorro, and more! Don't miss the funnest, bawdiest, sword-slingingest crossover event ever! Continue reading →