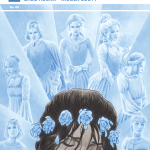 Publisher: Image
Writer: Greg Rucka
Artist: Nicola Scott
Colourist: Chiara Arena
Release Date: OUT NOW!
Price: $3.99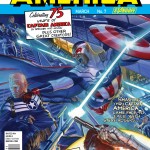 Exploding onto the scene in 1941 with a punch that would reverberate through history, Captain America would go on to become an icon and one of the most influential comic book characters ever created. This March, celebrate his 75th Anniversary and the legacy of what it means to be Captain America with the oversized CAPTAIN AMERICA: SAM WILSON #7 – a giant 80 page issue commemorating the past, present and future of the Sentinel of Liberty! Continue reading →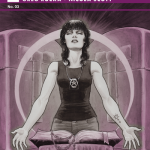 Publisher: Image Comics
Writer: Greg Rucka
Artist: Nicola Scott
Release Date: OUT NOW!
Price: $3.99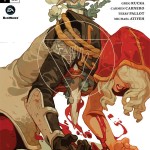 Greg Rucka writes Dragon Age!
Greg Rucka begins an all-new story set in the immersive dark-fantasy world of Dragon Age!
Tessa and Marius are mercenary partners, eliminating those who use blood magic to hurt others, but when a powerful patron employs them, they realize this next job may be their last . . . Continue reading →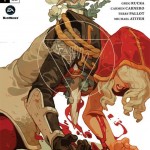 Publisher: Dark Horse Comics
Writer: Greg Rucka
Artist: Carmen Carnero
Editor: Dave Marshall
Release date: 16 December 2015
Price: $3.99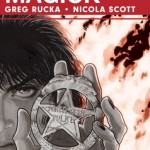 New York Times bestselling and Eisner Award-winning writer Greg Rucka (LAZARUS, Stumptown, Gotham Central) and superstar artist Nicola Scott (Birds of Prey, Secret Six, Earth 2) team up for BLACK MAGICK—a new gothic-noir ongoing series about legacy, destiny, redemption… and the price of magic. The new series was first announced at Image Expo and launches from Image Comics on Wednesday, October 28th, just in time for Halloween. Continue reading →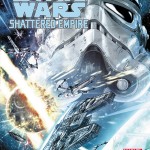 Charge headlong into a new era of Star Wars comics as the first Marvel series to take place after Return of the Jedi kicks off this September! Today, Marvel is proud to present your first look at JOURNEY TO STAR WARS: THE FORCE AWAKENS – SHATTERED EMPIRE #1 – Continue reading →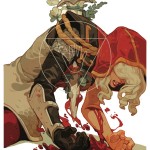 This December, Greg Rucka enters the world of Thedas for an all-new chapter in Dark Horse Comics and BioWare's Dragon Age comics.
Running parallel to the events of the award-winning Dragon Age: Inquisition video game from BioWare and Electronic Arts, Dragon Age: Magekiller introduces two new characters to Dragon Age lore: Tessa and Marius are mercenary partners, eliminating those who use blood magic to hurt others, but when a powerful patron employs them, they realize this next job may be their last… Continue reading →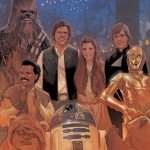 The Empire has fallen. It is now a time for resurgence. It is a time for new beginnings. This September, Marvel Comics and Lucasfilm are excited to present the newest chapter of the Star Wars mythos with Star Wars: Journey to The Force Awakens Continue reading →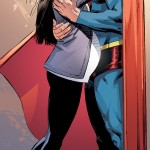 Last week DC Comics announced CONVERGENCE, the massively Multiversal crossover event that kicks off in April. Well, bit by bit we're learning more about it. Now, CBR and io9 have announced the first week of miniseries, complete with creative teams and very intriguing imagery. Continue reading →