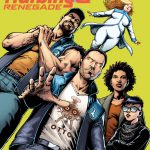 Publisher: Valiant
Writer: Rafer Roberts
Artist: Darick Robertson
Colourist: Diego Rodriguez
Release Date: OUT NOW!
Price: $3.99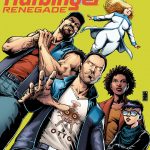 Anyone you know could become a psionically powered "harbinger" with the potential to reshape the course of human history. Your neighbor. Your boss. Your best friend. Your kids.
Six months ago, a secret team of renegade whistleblowers leaked the existence of these extraordinarily dangerous individuals to a stunned world. Today, all across the country, crude, DIY psiot activation attempts have left hundreds brain damaged…or worse. The emergence of a new psiot in a community often leads to riots and mass violence. Gun sales are through the roof. Continue reading →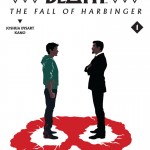 Publisher: Valiant Entertainment
Writer: Joshua Dysart
Artist: Kano
Editor: Alejandro Arbona
Release date: OUT NOW!
Price: $3.99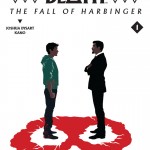 A showdown. An apocalypse. An ending.
Many years from today, Peter Stanchek, the Renegades, the Harbinger Foundation, the Bleeding Monk, and Toyo Harada's Imperium all reach their terminus, as the entire planet becomes the battlefield for the most devastating psionic combat humanity has ever seen. The Great Destroyer, long prophesied and foreseen, comes to Earth at last. Who will survive…and what will be left of them? Continue reading →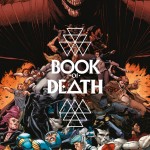 So let it be written… So let it be done… On July 15th, the next two thousand years of history collide with the most powerful heroes of today in the must-read event of the summer!
Valiant is proud to present your first look inside BOOK OF DEATH #1 (of 4) – the 40-page FIRST ISSUE of the blockbuster Valiant event of 2015 from New York Times best-selling writer Robert Venditti (X-O MANOWAR, Green Lantern) and the twin artistic talents of rising star Robert Gill (ARMOR HUNTERS: HARBINGER, Batgirl) and Valiant heavyweight Doug Braithwaite (ARMOR HUNTERS, Justice)! Continue reading →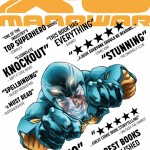 …With All-New Quote Covers!
In comic shops everywhere next week, get seven of Valiant's greatest most beloved #1 issues for just one dollar apiece with an all-new wave of ONE DOLLAR DEBUTS! Continue reading →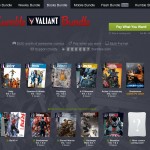 Pay what you want for Valiant's ultimate digital comic collection of your favorite titles and characters, while supporting charities that make truly heroic differences around the world!
Humble Bundle and award-winning comic book publisher Valiant Entertainment are proud to present the Humble Valiant Bundle – the ultimate digital comics collection featuring more than 120 issues of some of the most critically acclaimed titles anywhere in comics today! Continue reading →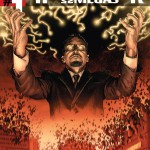 Joshua Dysart and Rafa Sandoval Begin a Powerful New Chapter in August!
Valiant is proud to present an advance preview of HARBINGER: OMEGAS #1 (of 3) – the FIRST ISSUE of a new landmark chapter for Valiant's acclaimed vision of superpowers in the real world by New York Times best-selling writer Joshua Dysart (Harbinger Wars) and red-hot artist Rafa Sandoval (Ultimate Hawkeye)! Continue reading →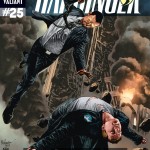 Adds VIVEK J. TIWARY, JANET LEE, LEWIS LAROSA, and More to All-Star Line-Up!
Hot on the heels of this month's X-O MANOWAR #25, Valiant is gearing up to celebrate yet another precedent-setting milestone for the most daring and real team of teenage superheroes in comics today – the Harbinger Renegades! Continue reading →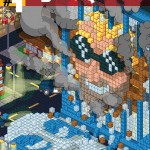 This August, VALIANT FIRST Is Building A Whole New Dimension Brick-By-Brick!
Valiant is topping off the success of the VALIANT FIRST initiative – Valiant's all-new summer 2014 publishing rollout – with a whole month of gaming-inspired #ValiantCraft shelf covers this August! Continue reading →