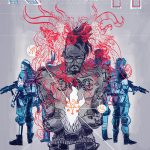 Image Comics is pleased to announce that writer Matt Nixon (Wolverine) and Toby Cypress (RODD RACER, BLUE ESTATE) will team up for an all new time-hopping paranormal series—RETCON. Continue reading →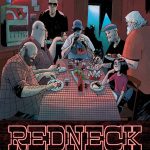 The white-hot new Image/Skybound series REDNECK by Donny Cates (GOD COUNTRY) and Lisandro Estherren is being rushed back to print in order to keep up with overwhelming customer demand.
The Bowmans are vampires who have quietly run the local barbecue joint in their small town for years, living off cows' blood. Their peaceful coexistence ends as generations of hate, fear, and bad blood bubble to the surface—making it impossible to separate man from monster. Continue reading →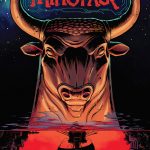 Famed video game and film writers Chris Pasetto (Sanitarium, co-writer of feature film Air) and Christian Cantamessa (Red Dead Redemption, co-writer and director of Air) team up with comics artist Lukas Ketner (WITCH DOCTOR) for the all-new series KILL THE MINOTAUR, coming this June from Image Comics and Skybound Entertainment. Continue reading →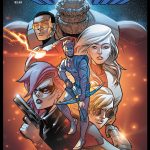 Image Comics is pleased to announce the return of Rob Liefeld's YOUNGBLOOD—the blockbuster hit series that launched the Image Revolution and turned the comics industry on its head—with story by Chad Bowers (X-Men '92, Deadpool: Bad Blood) and art from Jim Towe. YOUNGBLOOD is reborn with an all-new cast and a bold new mission with YOUNGBLOOD #1 issue—set to hit stores this May. Continue reading →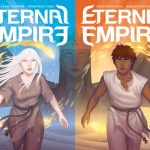 Powerhouse creative team Jonathan Luna (ALEX + ADA, THE SWORD, Spider-Woman: Origin) and Sarah Vaughn (ALEX + ADA, Deadman: Dark Mansion of Forbidden Love, Ruined) return with the monthly epic fantasy series ETERNAL EMPIRE, coming this May from Image Comics.
The Eternal Empress has waged war against the countries of Saia for over one hundred years, and now her sights are set on the last country left standing. Within the brutal Empire's workforce, a young woman receives strange visions that give her the courage to escape her fate…or run straight toward it. Continue reading →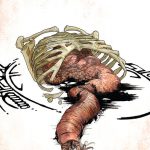 Bram Stoker and Eisner Award-nominated writer Cullen Bunn (Harrow County, The Sixth Gun, The Empty Man) returns with debut artist Danny Luckert (Haunted) and colorist/letterer Marie Enger (Pistolwhip, 2 Sisters) for a chilling new series in REGRESSION. The new series is set to launch this May. Continue reading →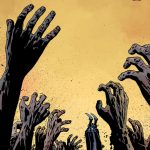 Image Comics partner and pop culture phenomenon Robert Kirkman and artist Charlie Adlard's THE WALKING DEAD #163 is the Direct Market's highest ordered comic in nearly 20 years.
As final orders rolled in this week from Diamond Comic Distributors, THE WALKING DEAD #163 pre-orders exceeded 730,000 copies—without the aid of subscription box numbers to bolster the overall total—making the goal of expanding readership through a promotional 25¢ price point an overwhelming success.  Continue reading →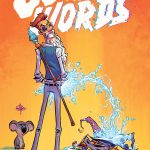 Image Comics is pleased to reveal a special, cheeky variant cover for CURSE WORDS #1 by Charles Soule and Ryan Browne featuring artwork by I HATE FAIRYLAND's Skottie Young (I HATE FAIRYLAND).
Young's characteristic wit is on display in this cover featuring CURSE WORDS' main character, Wizord… Erm, expressing his contempt for the stereotypical "wizard" people are familiar with… as Margaret watches on disapprovingly.  Continue reading →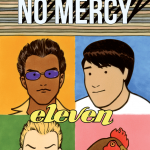 Publisher: Image Comics
Writer: Alex De Campi
Artist: Carla Speed McNeil
Colourist: Jenn Manley Lee
Release Date: OUT NOW!
Price: $3.99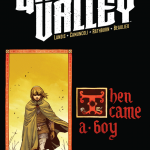 Publisher: Image Comics – Skybound
Writer: Max Landis
Artist(s): Giuseppe Camuncoli, Cliff Rathburn
Colourist: Jean-Francois Beaulieu
Release Date: OUT NOW!
Price: $2.99