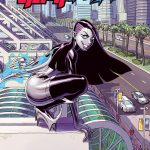 VAMPBLADE VOLUME 4 is the beginning of the second season of the series and is the perfect jumping on point for new readers. Fans of ZOMBIE TRAMP and DOLLFACE won't want to miss comic fan Katie Carva, the mystically mysterious Vampblade, as she fights invisible other-dimensional vampires straight from the 90s comics of her namesake. Continue reading →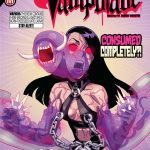 Katie's been on a rough ride of late – fighting Detroit's toughest infected, battling Space Knights, spelunking in sewage – but things are about to get much worse for our bladed bad ass, because now her weapons are turning on herself!! It's Vampblade versus… the Vampblades!?!
Features a risqué variant, plus "90s Monster" (Andrew Mangum) and artist (Hyde Chang) variants and risqué variants. Continue reading →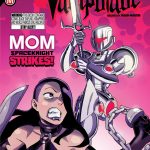 Vampblade's in for the fight of her life… instead of facing more mindless monsters, an all-new super deadly sword wielding foe crosses blades with Katie. Who or what is Mom Spaceknight, and why is she unleashing cosmic hell on our cosplaying slayer?!?
Features "artist", "90s Monster" and risqué variant covers. Continue reading →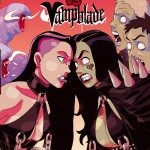 In a story too big to contain in the pages of her regular monthly series, fan favorite undead anti-heroine Zombie Tramp goes up against a new larger-then-life supernatural foe… Vampblade! Can Zombie Tramp hold her own against this new weapon-wielding dominatrix and her interdimensional vampire enemies, or has she met her sexy/crazy/cool match!?! Continue reading →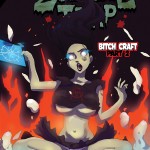 Zombie Tramp heads back to school to break up the coven of teenage witches using her uploaded Necronomicon to power their tablets. But can one supernatural zombie hold her own against a gang of spell casting mean girls?!? Continue reading →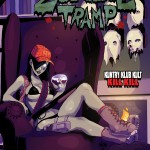 While being hunted on the deep South golf course, Zombie Tramp turns the tables on the satanic Country Club cult members who aim to bag her, only to encounter their dark master, the powerful King in Yellow. It's Caddy Shack meets Deliverance by way of True Detective!
Features a variant cover by series creator Dan Mendoza (limited to 2000 copies) a risqué variant cover (limited to 2500 copies), and an artist showcase variant by Tank Girl's Brett Parson (limited to 1500 copies). Continue reading →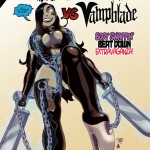 Zombie Tramp's biggest showdown yet continues! But how will the zombie queen overcome swapping bodies – and powers – with the mystical Vampblade?!? Can the two gothic foes work together long enough to undo their body swap voodoo?? The back alley horror brawl is just getting started!  Features a risqué variant, limited to 2000 copies!  Continue reading →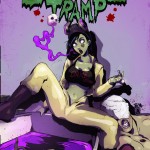 Perfect jumping on point for new readers! Janey is back, fresh from a dirt nap, and continuing her cross-country quest with a stop in the motor city. But when a bath in what appears to be an abandoned Detroit warehouse leaves rings in the tub, the meth chef resident cooks up a new drug… yep, it's Breaking Bath Salts!! Plus an all-new major character makes her first appearance!!!  Continue reading →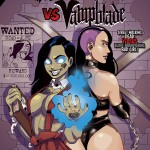 In a story too big to contain in the pages of her regular monthly series, fan-favorite undead anti-heroine Zombie Tramp breaks out into an all-new limited series that pits her against a new larger-than-life supernatural foe… Vampblade! Can Zombie Tramp hold her own against this new interdimensional weapon-wielding comic book bad girl brought to life, or has she met her sexy/crazy/cool match? Let the hair pulling and blood spilling begin!  Continue reading →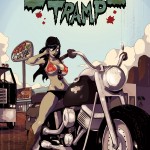 Publisher: Action Lab Comics
Writer: Jason Martin, Dan Mendoza
Artist: Dennis Budd, Anna Lencioni, Winston Young
Release date: May 2015
Price: $14.99