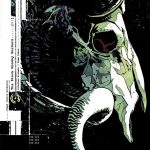 Image Comics is pleased to announce the all-new, ongoing crypto-noir series THE BLACK MONDAY MURDERS by New York Times and Eisner Award winning writer Jonathan Hickman (EAST OF WEST) and Tomm Coker (Undying Love) will launch in in August.
THE BLACK MONDAY MURDERS is classic occultism where the various schools of magic are actually clandestine banking cartels who control all of society: a secret world where vampire Russian oligarchs, Black popes, enchanted American aristocrats, and hitmen from the International Monetary Fund work together to keep ALL OF US in our proper place. Continue reading →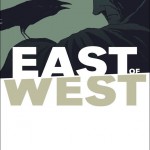 New York Times bestselling creative team Jonathan Hickman (THE MANHATTAN PROJECTS, THE DYING AND THE DEAD) and Nick Dragotta (HOWTOONS) will launch the sixth arc in their ongoing sci-fi western series EAST OF WEST this April.
Previously in EAST OF WEST, an impressive cavalcade of characters let loose their pawns in a cunning game of deception. Loyalties shifted, alliances were betrayed, old friends were murdered—all in service of, or to thwart, the Apocalypse. Continue reading →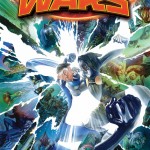 It's the story that has the whole world on the edge of its seat. The biggest Marvel event of all time. And this January – it all comes crashing down and births the All-New, All-Different Marvel Universe. To get ready for this gargantuan battle royale, Marvel is excited to present "SECRET WARS: THE STORY SO FAR." In order to prepare for the cataclysmic and Battleworld-shaking chapter, recap the entire event now with the help of Marvel.com Host, Lorraine Cink: Continue reading →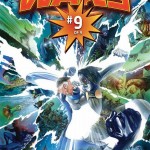 Publisher: Marvel Comics
Writer: Jonathan Hickman
Artist: Esad Ribic
Colourist: Ive Svorcina
Editor: Alanna Smith
Release Date: OUT NOW!
Price: $3.99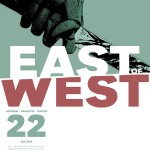 Publisher: Image Comics
Writer: Jonathan Hickman
Artist: Nick Dragotta
Colourist: Frank Martin
Release Date: OUT NOW!
Price: $3.50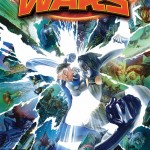 It's the story that has the whole world on the edge of its seat. The biggest Marvel event of all time. The story that destroyed the Marvel Universe. And this January – it all comes crashing down. Today, Marvel is pleased to present your first look at SECRET WARS #9, the cataclysmic final issue from chart topping creators Jonathan Hickman and Esad Ribic! Continue reading →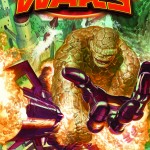 It's the story that has the world talking. The biggest Marvel event of all time. And it's rocketing toward it's cataclysmic conclusion. Today, Marvel is pleased to present Alex Ross' stunning cover to SECRET WARS #8 – Continue reading →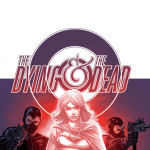 Publishers: Image Comics
Writer: Jonathan Hickman
Artist: Ryan Bodenheim
Colourist: Michael Garland
Release date: OUT NOW!
Price: $3.50/ Digital: $2.99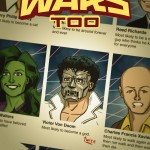 Give Secret Wars a grand sendoff as some of the hottest names in the comics industry bid adieu to Battleworld later this year! Today, Marvel is pleased to present SECRET WARS TOO #1, Continue reading →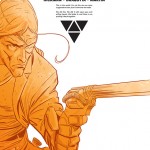 The first fifteen issues of the Eisner-award nominated, New York Times bestselling sci-fi, western will be collected into deluxe hardcover
Writer Jonathan Hickman (THE MANHATTAN PROJECTS, THE DYING AND THE DEAD) and artist Nick Dragotta (HOWTOONS) team up for a sweeping sci-fi western filled with world-building and an ensemble cast of characters in EAST OF WEST. The first fifteen issues of the New York Times bestselling and Eisner Award-nominated series will be collected into an oversized prestige hardcover. The First Year of The Apocalypse and will contain over 50 pages of bonus material, the full script for issue #1, and never-before-seen concept art. It will be in stores this July and is available to pre-order now. Continue reading →