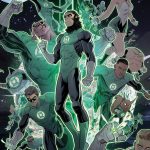 Publisher: BOOM! Studios/DC Comics
Writer: Robbie Thomas, Justin Jordan
Artist: Barnaby Bagenda
Colourist: Alex Guimaraes
Release Date: OUT NOW!
Price: $3.99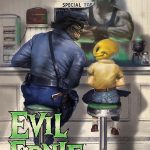 Hell has gone to hell with the arrival of the Godeater, and Ernie has one last chance to stop it before it's too late: he has to bring Heaven down to the pits! Justin Jordan, fan-favorite writer of The Strange Case of Luther Strode, continues his mind-blowing Chaos Comics epic! Meanwhile, in Chapter Four of our "Last Ditch Bitch" back-up story: How do you save death metal rocker Liv Halvorsen from the goddess Mistress Hel? Special guest star Chastity wrestles with the dilemma… while fighting tooth and nail against the Dead Onez! Continue reading →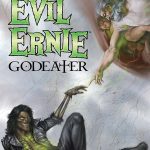 Publisher: Dynamite Entertainment
Writer: Justin Jordan
Artist: Colton Worley
Colourist: Colton Worley
Release Date: OUT NOW!
Price: $4.99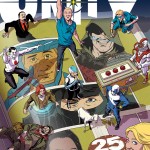 In the wake of BOOK OF DEATH, Valiant's elite superteam is no more…and Valiant is recruiting a who's who of all-star guests to bid them a fond farewell!
Valiant is proud to announce UNITY #25 – a super-sized, 48-page finale for Valiant's best-selling superteam, starring X-O Manowar, Livewire, Ninjak, Bloodshot, Divinity, Faith, Quantum and Woody, the Death-Defying Dr. Mirage, and pretty much the whole darn Valiant Universe! Continue reading →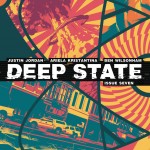 Publisher: Boom
Writers: Justin Jordan
Artist: Ariela Kristantina
Colourist: Ben Wilsonham
Release date: OUT NOW!!!!!!!
Price: $3,99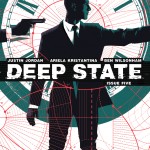 BOOM! Studios
Writer: Justin Jordan
Artist: Ariela Kristantina
Colourist: Ben Wilsonham
Price: $3.99
Release date: April 8, 2015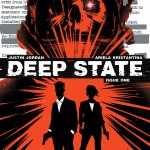 Award-winning publisher BOOM! Studios is pleased to announce that Deep State #1, the new conspiracy-driven series from Justin Jordan (Spread, The Strange Talent of Luther Strode) and artist Ariela Kristantina (Death of Wolverine), has sold out at the distributor level. The publisher has rushed to a second printing. As announced on Deadline.com, the publisher has also sold the rights for the series as a television drama, as part of its first-look deal with 20th Century Fox TV, in a collaboration with producer Howard Gordon's (Homeland, Tyrant) Teakwood Lane. Continue reading →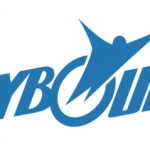 Check Out The Best of What Robert Kirkman's Skybound Entertainment Has to Offer
From 9/23 through 9/25, fans of Robert Kirkman's THE WALKING DEAD and INVINCIBLE will be able to take advantage of this week's Skybound Originals Sale on ComiXology and try out some of the hottest new series from Skybound Entertainment. Continue reading →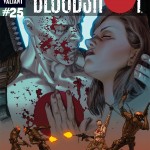 In the tradition of X-O MANOWAR #25, HARBINGER #25, and ARCHER & ARMSTRONG #25… a murderer's row of all-star talents is going all-in for an oversized, 48-page anniversary blowout chronicling the classified history of Valiant's most dangerous, most brutal, most relentless hero – BLOODSHOT!
Continue reading →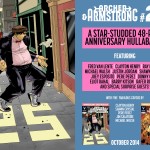 Featuring VAN LENTE, HENRY, FAWKES, WALSH, CRYSTAL, and Many More!
In the tradition of X-O MANOWAR #25 and HARBINGER #25…get ready for Valiant's biggest, boldest, most over-the-top anniversary celebration yet – coming this fall! Continue reading →