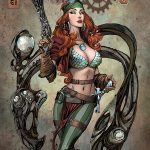 Publisher: Dynamite
Writer: Marc Andreyko
Artist: Igor Lima
Colourist: Adriano Augusto
Release Date: OUT NOW!
Price: $3.99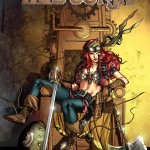 Publisher: Dynamite Comics
Writer: Marc Andreyko
Artist: Aneke
Editor: Luke Lieberman
Release date: 24 June 2015
Price: $3.99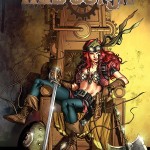 After franken-monsters, submarine escapes, shark attacks, and shipwrecks, can a mentally and physically exhausted Red Sonja defeat the evil of Victor Frankenstein before he unleashes his master plan upon the world of Legenderry? What new monstrosities have sprung from Victor's deranged and fractured psyche? And will the "rebuilt" Captain Nemo and Elizabeth Frankenstein help Red Sonja's cause…or be the death of her? Find out all of the answers in the stunning conclusion to Red's first Legenderry solo adventure! Continue reading →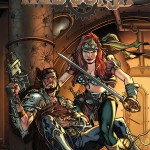 After coming face to face with the evil that is Victor Frankenstein and seeing the horrors he has planned for the world, Red Sonja must struggle not only to survive an army of monsters, but to save herself from a horrible fate! With her only ally taken from her, Red seems utterly alone against an insurmountable task. Can the clever swashbuckling heroine overcome the odds and live long enough to bring down Frankenstein's Army? Or will she be consumed by the sea? Continue reading →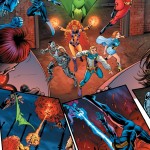 Thanksgiving may not be until Thursday, but if you're a longtime DC Comics reader, there's plenty to be thankful for right now. After officially revealing the titles and creative teams that will make up Week One and Week Two of CONVERGENCE, DC Comics' massive crossover event hitting the stands in 2015, this week they moved on to Week Three, breaking the next wave of two-issue miniseries on Nerdist and IGN. Continue reading →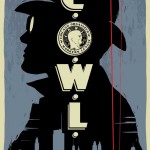 The All-New Superhero Series Sells Out Immediately, Rushed To Second Print
Kyle Higgins (Batman, Nightwing), Alec Siegel (Captain America, Avengers), and Rod Reis' (Justice League) all-new ongoing series C.O.W.L. has garnered early praise across the comics community and sold out instantly at the distributor level. In order to meet customer demand, Image Comics is pleased to announce a second printing of the new superhero comic will be available on 6/25. Continue reading →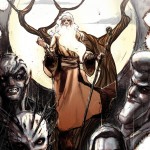 All-New Stories Featuring the Characters From the 1990 Film!
Being an outcast is tough, but being a monstrous creature is even tougher! This May, BOOM! Studios' new horror series CLIVE BARKER'S NIGHTBREED shows that monsters aren't hiding under your bed—they're walking among us! Continue reading →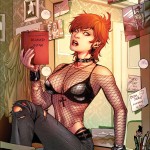 WRITTEN BY MARC ANDREYKO, A DYNAMITE ENTERTAINMENT PRODUCTION SET FOR JULY RELEASE!
Following hot on the heels of Dynamite's Chaos! series relaunch with Tim Seeley, Dynamite is proud to announce another great Chaos! character return – she's reimagined and ready for blood! Join fan-favorite scribe Marc Andreyko (Batwoman, Torso, Manhunter) and artist Dave Acosta for the blood-curdling adventures of a girl who is most definitely NOT your father's vampire! Continue reading →