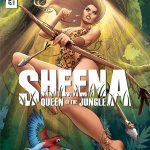 Publisher: Dynamite
Writer: Marguerite Bennett and Christina Trujillo
Artist: Moritat and Dimi Marcheras
Colourist: Moritat and Casey Silver
Release Date: Out Now!
Price: $3.99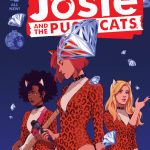 Publisher: Archie Comics
Writer: Marguerite Bennett and Cameron DeOrdio
Artist: Audrey Mok
Colourist: Kelly Fitzpatrick
Release Date: OUT NOW!
Price: $3.99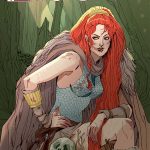 Hunted by the elite assassins of her own King, Sonja is forced to hide – even among her ex-lovers! With the aid of those from her past, she must rally a rebellion against the new despot, ending his dreams of conquest. Sonja plots a desperate gambit of her own as Hyrkania teeters on the brink of civil war!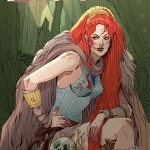 Publisher: Dynamite Comics
Writer: Marguerite Bennett
Artist: Aneke
Editor: Joseph Rybandt
Release Date: 20 April 2016
Price: $3.99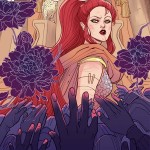 As her people turn warlike and become more vicious than even their enemies, Red Sonja battles to save Hyrkania from its own army. Racing to the throne, with a price on her head, Sonja finds herself entangled in the charms and wiles of a mysterious and beautiful performer… and when the face of the King is revealed at last, Sonja is captured in intrigues more deadly than any she has known! Continue reading →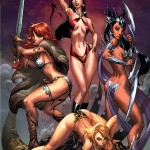 COLLECTS ISSUES ISSUES 1-6 OF THE MAIN SERIES ALONG WITH ALL 15 TIE-IN ISSUES AND MINI-SERIES!
Dynamite's fiercest females appear in a massive genre-spanning crossover event featuring an all-star line-up of female authors, headlined by Gail Simone (Batgirl, Birds of Prey)! The ultimate pulp adventure features Vampirella, Dejah Thoris, Red Sonja, Purgatori, Lady Demon, Chastity, Jungle Girl, Jennifer Blood, Kato, Lady Zorro, and many, many more! Continue reading →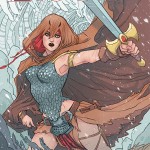 Through the plains of Hyrkania, a message sweeps through the scattered peoples of the nation. Bells ring, horns blow, voices shout – the King is dying! Red Sonja rides to save the King from his doom as the powers of Hyboria crowd around to strike when the kingdom is weakest. But a dread new power rises from within Hyrkania's own borders, bent on defending its homeland – no matter the cost, no matter what its people become. A defining chapter of the Red Sonja saga – dark, clever, vicious, and funny – as the She-Devil with a Sword must stop the rise of a brutal new regime… her own people! Continue reading →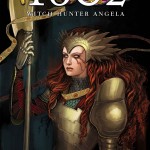 This June – magic and might battle marvelous monstrosities as Angela and Sera take the fight to Battleworld! Today, Marvel is pleased to present your new look at 1602 WITCH HUNTER ANGELA #1 – a brand-new Secret Wars series! Continue reading →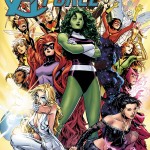 A New Team of Avengers Assembles During SECRET WARS
An all-new era begins this May as Marvel's Mightiest Mavens assemble for an explosive new series launching during Secret Wars! Today, Marvel is pleased to present your new look inside the blockbuster A-FORCE #1 – from the creative team of G. Willow Wilson (Ms. Marvel), Marguerite Bennett (Angela: Asgard's Assassin, James Patterson's Max Ride: First Flight) and Jorge Molina (X-Men)! Continue reading →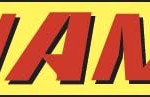 Dynamite Entertainment is proud to announce that Swords of Sorrow, the epic crossover of female characters conceived of by fan-favorite and bestselling writer Gail Simone, will continue to expand its reach in June and July with new tie-in comic book projects, each helmed by a female writer. In June, Dynamite will debut Swords of Sorrow: Dejah Thoris & Irene Adler, a three-issue miniseries by Leah Moore, as well as the Swords of Sorrow: Black Sparrow & Lady Zorro Special by Erica Schultz. One month later, the three-part Swords of Sorrow: Red Sonja / Jungle Girl miniseries will release its first issue, written by Marguerite Bennett. The tie-in storylines, created to explore ideas introduced in Simone's core series, will run concurrently throughout the summer with Swords of Sorrow and additional announced tie-in titles. Continue reading →