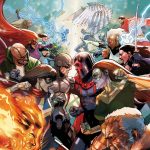 Two super-powered races clash this December as Mutantkind and Inhumanity collide with the fates of their species at stake! Prepare for battle as Charles Soule (Uncanny Inhumans), Jeff Lemire (Extraordinary X-Men) and Leinil Yu (Secret Invasion) bring you the two groups to war in the explosive INHUMANS VS. X-MEN #1! Continue reading →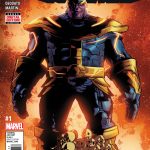 He is the greatest evil the universe has ever known. An unstoppable force whose name is whispered in hushed tones across the galaxy. Feared from one end of the cosmos to the other, he's returned to take back what is rightfully his! Today, Marvel is pleased to present your first look inside THANOS #1 – the new ongoing series from all-star creators Jeff Lemire (Moon Knight, Death of X) and Mike Deodato (Avengers, Invincible Iron Man)! Continue reading →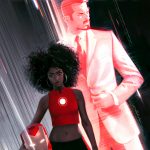 The Marvel Universe stands divided. As those who once stood together now stand apart, new heroes will rise to answer the call. This Fall, a new armored avenger suits up in INVINCIBLE IRON MAN #1 – a new series launching as part of Marvel NOW! Superstar creator Brian Michael Bendis welcomes incoming artist Stefano Caselli to the ongoing adventures of Marvel's newest leading lady – Riri Williams! Continue reading →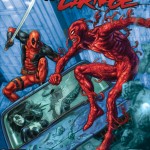 You already know All-New Marvel NOW! has everyone buzzing – and today Marvel is proud to announce that even more red-hot titles have sold out at the distributor level and will immediately return to press! Missed out on great titles like ALL-NEW GHOST RIDER #2, IRON FIST: THE LIVING WEAPON #1, CAPTAIN MARVEL #2, DEADPOOL VS CARNAGE #2, and SHE-HULK #3 the first time? Well, now is your second chance!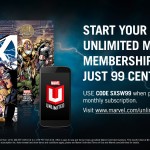 Access Over 15,000 Digital Comics For Less Than a Buck!
Marvel is celebrating SXSW Interactive 2014 by offering fans access to nearly 15,000 of Marvel's greatest comics- including the top-selling Age of Ultron event, all the first issues from the game-changing Marvel NOW! initiative and more– for an entire month via the ground-breaking Marvel Unlimited app…for only 99 cents! Continue reading →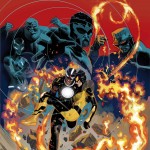 Welcome to Planet X!
This March, experience the Marvel Universe like you've never seen it before when Avenge the Earth kicks off in UNCANNY AVENGERS 18.NOW! From the New York Times Bestselling creators Rick Remender and Daniel Acuña comes the next arc in the series fans are calling "amazing", "intense" and "epic"! Continue reading →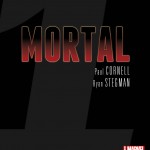 Paul Cornell & Ryan Stegman
From Paul Cornell and Ryan Stegman, Marvel NOW! brings you MORTAL, coming February 2014! Continue reading →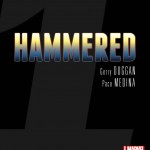 Gerry Duggan and Paco Medina
From Gerry Duggan and Paco Medina, Marvel NOW! brings you HAMMERED, coming February 2014! Continue reading →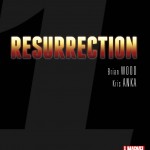 From Brian Wood and Kris Anka
From Brian Wood and Kris Anka, Marvel NOW! brings you RESURRECTION, coming February 2014! Continue reading →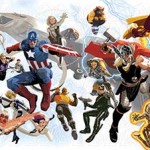 DOZENS OF AVENGERS IN 6-FOOT LONG FOLD-OUT POSTER
In honor of the 50th Anniversary of Earth's Mightiest – Marvel is pleased to present your first look at the Avengers 50th Anniversary Mega Fold-Out Poster by superstar Avengers artist Daniel Acuña! Continue reading →