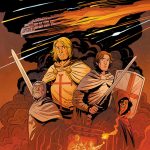 Image Comics is pleased to announce LAKE OF FIRE #1 by Nathan Fairbairn and Matt Smith is being fasttracked for a second printing in order to keep up with customer demand.
The exciting new series is set in AD 1220, as the gears of the long and bloody Albigensian Crusade grind on. Continue reading →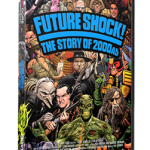 Studio: Metrodome
Director: Paul Goodwin
Producers: Sean Hogan, Helen Mullane
Featuring: Karl Urban (Dredd), Neil Gaiman (The Sandman), Paul Gravett (Comic Book Historian), Pat Mills (ABC Warriors, Slaine), Carlos Ezquerra (Judge Dredd), Matt Smith (2000 AD Editor) and Dave Gibbons (The Watchmen).
Extras include:
94 PAGE PDF 2000AD
ORIGINS E-COMIC 10 First Episodes from some of 2000 AD's Greatest Characters! Including: Judge Dredd, Rogue Trooper, Slaine, Nemesis The Warlock, Strontium Dog, Halo Jones, Nikolai Dante, A.B.C Warriors, Kingdom, Shakara.
Running Time: 106 Minutes
Release Date: OUT NOW!
Price: £7.99/ £3.49 Amazon Instant Video. Also available VOD: iTunes, Google, PlayStation Store, XBox Video and Sky Store.
http://futureshock2000ad.com/index.html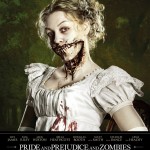 IT STARTED out in 2009 as prose novel in which Seth Grahame-Smith blended elements of 21st century zombie fiction into Jane Austen's classic 1813 novel Pride and Prejudice. A year later came a comicbookl adaptation and now Pride and Prejudice and Zombies is heading for the big screen.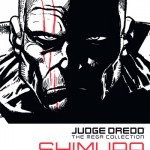 Publisher: 2000AD
Writer: Robbie Morrison
Artists: Colin Macneil, Simon Fraser, Duke Mighten, Robert McCallum, and Cyril Julien
Editor: Matt Smith
Out: 27 May 2015
Price: £9.99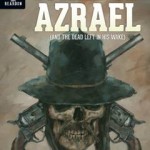 His name is Ichabod and he is a killer. But his death – for die he must – is only the beginning of his story…
2000 AD are very proud to announce that the next US format mini-series from them will be THE GRIEVOUS JOURNEY OF ICHABOD AZRAEL (AND THE DEAD LEFT IN HIS WAKE) by Rob Williams, Dom Reardon, Michael Dowling, Peter Doherty, and Antonio Fuso. Continue reading →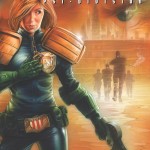 Get Inside The Mind Of 'Psi-Division'
This August, IDW Publishing will add a brand-new series to its growing line of critically-acclaimed Judge Dredd titles — Judge Dredd: Anderson, Psi-Division, spotlighting the eponymous judge and her early days with the unique branch of the law. Continue reading →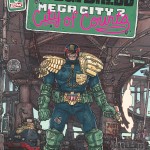 New Mini-Series Debuts From IDW
This January, duty calls Judge Dredd to the West Coast, in the destructive new miniseries Mega-City Two: City of Courts! Continue reading →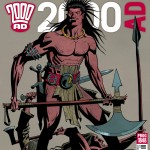 30th ANNIVERSARY SEES CLASSIC SLÁINE MOMENTS REVISITED
Industry legend Simon Bisley returns to 2000 AD this week for a special one-off episode of the strip that catapulted him to international fame in the 1980s – Sláine.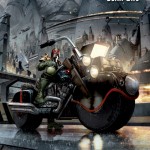 The Legendary Lawman's Early Days to Be Chronicled in Upcoming Miniseries!
Though Judge Joseph Dredd's exploits have changed the post-apocalyptic sprawl of Mega-City One forever, there was a Mega-City One before Dredd ever hopped aboard a Lawmaster. In March 2013's JUDGE DREDD: YEAR ONE, Eagle Award-winning 2000 AD Editor-in-Chief Matt Smith takes up arms with Dredd veterans Simon Coleby on interiors and Greg Staples on covers to deliver the thrilling exploits of a younger Judge Dredd!