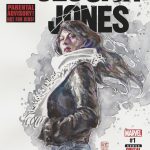 That's right, she's back after a decade! This October, she returns to the fold for an all-new ongoing series as the highly anticipated JESSICA JONES #1 explodes onto the scene as part of Marvel NOW! From the original creative team of Brian Michael Bendis, Michael Gaydos and David Mack comes a brand new series that drags Jessica to the center of the Marvel Universe! Continue reading →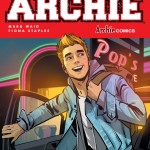 COMIC SUPERSTARS MARK WAID AND FIONA STAPLES REIMAGINE AN ICON! Change is coming to Riverdale in this can't-miss kick-off to Archie's new ongoing series! Familiar faces return in new and unexpected ways in this must-have #1 issue! As the new school year approaches, you'd think Archie Andrews would be looking forward to classes and fun—but nothing is as it seems in the little town of Riverdale. But is this a one-off or a sign of bigger changes awaiting for America's favorite teens—and the entire town? Find out in this exciting and remarkable first issue! Continue reading →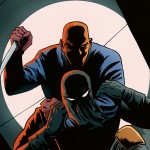 Publisher: Dark Circle Comics
Writer: Duane Swierczynski
Artist: Michael Gaydos
Editor: Alex Segura
Release date: OUT NOW!!!!!
Price: $3.99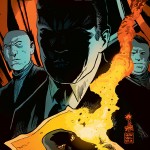 NEW ONGOING SERIES FROM DARK CIRCLE! –>
"The Bullet's Kiss, Part 3" The Black Hood is supposed to be dead. Shot, de-masked, autopsied, buried. So who's running around town in a ratty black hood, declaring war on the underworld? Continue reading →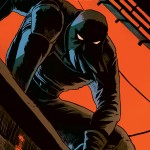 NEW SERIES FROM DARK CIRCLE! "The Bullet's Kiss, Part 2" The acclaimed crime series continues with another dose of deadly noir by two masters of the genre. Continue reading →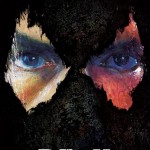 THE BLACK HOOD, THE SHIELD and THE FOX Ongoing Series Slated to Launch Early Next Year
Dark Circle Comics – the superhero imprint of Archie Comics – has revealed that the label's first wave of titles will include THE BLACK HOOD from writer Duane Swierczynski (Judge Dredd, X, Birds of Prey) and artist Michael Gaydos (ALIAS), THE SHIELD from writers Adam Christopher (The Burning Dark) and Chuck Wendig (Blackbirds) and artist Wilfredo Torres (The Shadow: Year One), and THE FOX from writer/artist Dean Haspiel (Billy Dogma, HBO's Bored to Death) and scripter Mark Waid (Daredevil, Kingdom Come, founder of Thrillbent). All three series will be ongoing and launch early next year. Continue reading →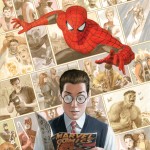 New Anthology to Feature Some of the Industry's Biggest Names!
In October 1939, Marvel Comics #1 was unleashed upon the world, creating an entire universe and laying the foundations for decades of boundless myth making. Now, 75 years later, Marvel Comics has grown to become the home of the most recognizable and beloved characters in all of fiction. Celebrate over seven decades of storytelling in the mighty Marvel manner with the Marvel 75th Anniversary Celebration #1 – a new anthology coming to comic shops and digital devices this October! Continue reading →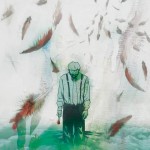 J.R.R. Tolkien, C.S. Lewis, Charles Williams Team Up In This Historical Fantasy
Do what thou wilt shall NOT be the whole of the Law—not if Charles Williams has anything to say about it! Continue reading →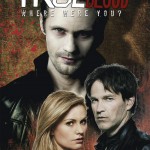 First five issues compiled into a hardcover collection
IDW Publishing, in conjunction with HBO, is pleased to announce that the first collection of the TRUE BLOOD ongoing series will debut in hardcover this December. TRUE BLOOD: WHERE WERE YOU? is written by comic luminary Ann Nocenti and series actor, Michael McMillian (Reverend Steve Newlin), who also co-wrote the TRUE BLOOD Tainted Love series. Additionally, the collection includes creative collaboration by True Blood creator, writer, and producer Alan Ball. Taking on artistic duties are Michael Gaydos, Greg Scott and Federica Manfredi, with cover art by renowned artist Tim Bradstreet.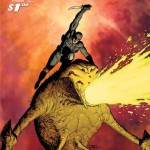 Written by Simon Spurrier full first issue only $1
This June, BOOM! Studios launches EXTERMINATION, an all-new ongoing super-hero thriller written by Simon Spurrier (X-CLUB, FEAR ITSELF: THE HOME FRONT, CROSSED, WOLVERINE: DANGEROUS GAMES) and drawn by rising star Jeffrey Edwards, with a full 22-page first issue for only $1!