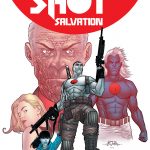 Valiant is proud to present your first look inside BLOODSHOT SALVATION #1 – the FIRST ISSUE of the BLOCKBUSTER NEW ONGOING SERIES from New York Times best-selling writer Jeff Lemire (BLOODSHOT REBORN, Moon Knight) and extraordinary artists Lewis LaRosa (BLOODSHOT REBORN, SAVAGE) & Mico Suayan (BLOODSHOT REBORN)! Continue reading →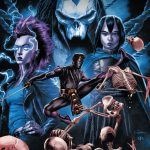 Valiant is proud to present your first lettered look inside RAPTURE #1 (of 4) – the FIRST ISSUE of Valiant's astonishing standalone event from New York Times best-selling writer Matt Kindt (X-O Manowar, Dept. H) and explosive artist CAFU (Rai)! On May 24th – the next "X-O Manowar Wednesday" in comics shops everywhere – Continue reading →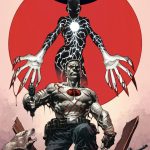 Publisher: Valiant Entertainment
Writer: Jeff Lemire
Artist: Mico Suayan
Colourist: David Baron
Release Date: OUT NOW!!!
Price: $3.99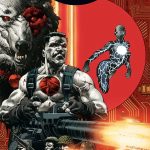 This July, Jeff Lemire and Mico Suayan come ashore on "BLOODSHOT ISLAND"…and begin the hunt for the sinister secret of DEATHMATE all over again!
Valiant is proud to present your first look inside BLOODSHOT REBORN #15! On July 13th, it's sun, surf, and suicide missions when New York Times best-selling writer Jeff Lemire (THE VALIANT, Moon Knight) and Valiant-exclusive superstar-in-the-making Mico Suayan (BLOODSHOT REBORN) plunge headlong into the next shocking chapter of "BLOODSHOT ISLAND"! Continue reading →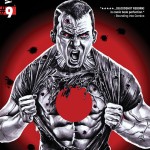 BLOODSHOT VERSUS BLOODSHOT!
The epic finale to "THE HUNT" brings Ray Garrison face-to-face with the nanite-infected mass murderer that has wreaked havoc across Colorado. But will Ray be able to pull the trigger when he discovers the identity of his adversary? Or will he succumb to the dark whispers of the nanites that threaten to destroy his humanity once-and-for-all? New York Times best-selling writer Jeff Lemire and comics legend Butch Guice bring you the unforgettable final chapter of the story that will change Bloodshot forever! Continue reading →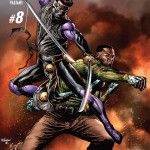 THE SHADOW WARS – PART 3! Ninjak face-to-face with the terrifying threat of…FITZY!
Ninjak goes toe-to-toe with the brains of the Shadow Seven operation: The deadly and very intelligent Fitzy. But as Colin King discovers he has much more in common with this group of thieves and murderers than he'd like, will he be able to hold onto his honor…and his sanity? Continue reading →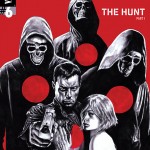 ALL-NEW ARC! JUMP ON BOARD HERE! "THE HUNT" – PART 1
Bloodshot is on the hunt. Determined to stop the violent reign of terror that plagues Colorado, Bloodshot journeys across the Rocky Mountains to destroy the remaining nanites that have caused mass murderers to spring up across the state. But will the drugs, booze, and insane visions rattling around his head put an end to his journey before it begins? Continue reading →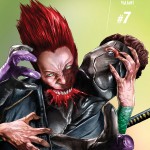 Sanguine shatters "THE SHADOW WARS"!
Ninjak goes head-to-head with the Shadow Seven's toughest villain, Sanguine – but will his past come back to bite him before she does? As a conspiracy from Colin King's first days as a spy finally comes to light in the modern day, will Ninjak survive his deadliest battle yet? And what will be left of him? Red-hot artist Juan José Ryp (Black Summer) joins Matt Kindt for the second 40-page chapter of THE SHADOW WARS! Plus: an all-new installment of NINJAK: THE LOST FILES, featuring artwork by Eisner Award-nominated artist Butch Guice! Continue reading →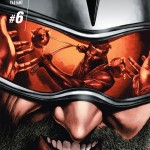 Beginning in August, MI-6's most dangerous master spy goes head-to-head against a gauntlet of deadly new enemies for…"THE SHADOW WARS"!
Valiant is proud to present an advance preview of NINJAK #6 – the FIRST ISSUE of "THE SHADOW WARS," an all-new story arc from New York Times best-selling writer Matt Kindt (DIVINITY, Mind MGMT) and visionary rising star Raúl Allén (WRATH OF THE ETERNAL WARRIOR)! Start reading here on August 26th as Ninjak dices his way through the secret leadership of the Shadow Seven one member at time…and confronts four all-new enemies obsessed with bringing down MI-6 by any means necessary! Continue reading →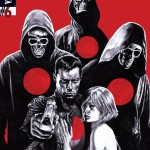 This September, Eisner Award-nominated superstar Butch Guice joins New York Times best-selling writer Jeff Lemire to send Bloodshot into…THE HUNT!  
Valiant is proud to present the first look inside BLOODSHOT REBORN #6 – the FIRST ISSUE of "THE HUNT" from master storytellers Jeff Lemire (THE VALIANT, Descender) and artist Butch Guice (NINJAK, Captain America)! This September, jump on board here as the one of the year's most acclaimed new ongoing series begins its second shocking story arc…and Bloodshot's crusade to destroy his own deranged doppelgängers takes a disturbing new turn! Continue reading →