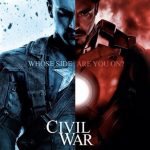 Producer: Marvel Studios
Writers: Christopher Markus, Stephen McFeely
Directors: Anthony and Joe Russo
Featuring: Chris Evans, Sebastian Stan, Robert Downey, Jr. Anthony Mackie, Scarlet Johanson, Don Cheadle, Jeremy Renner, Chadwick Boseman, Paul Bettany, Elizabeth Olsen, Paul Rudd, Emily Van Camp, Tom Holland, William Hurt, Martin Freeman, Daniel Brühl
Release Date: OUT NOW!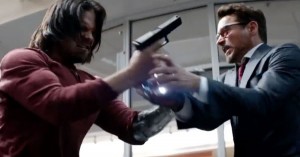 Team Iron Man attempts to take down the Winter Soldier in a scene from "Captain America: Civil War" that sees Bucky hold his own against Tony Stark, Black Widow and Agent 13.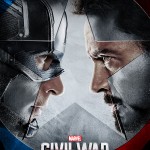 CAPTAIN America: The Winter Soldier directors Anthony Russo and John Russo are set to bring Marvel's patriotic superhero back to the big screen in Captain America: Civil War, which premieres in the UK on April 29 and in the US a week later.