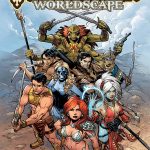 Publisher: Dynamite Entertainment
Writer: Erik Mona
Artist: Jonathan Lau
Colourist: Omi Remalante
Release Date: OUT NOW!
Price: $4.99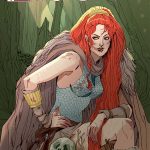 Hunted by the elite assassins of her own King, Sonja is forced to hide – even among her ex-lovers! With the aid of those from her past, she must rally a rebellion against the new despot, ending his dreams of conquest. Sonja plots a desperate gambit of her own as Hyrkania teeters on the brink of civil war!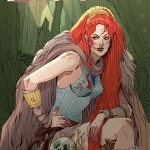 Publisher: Dynamite Comics
Writer: Marguerite Bennett
Artist: Aneke
Editor: Joseph Rybandt
Release Date: 20 April 2016
Price: $3.99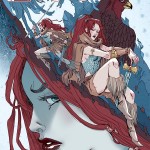 Chased by her fellow Hyrkanians for treason, Sonja races to the King, only to discover that he is a face from her own past! The scorned ruler plans a wave of conquest and bloodshed across the nations of their enemies. Red Sonja, the one-time hero of her people, will become her homeland's most notorious outlaw, hunted by those she loves! Continue reading →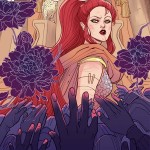 As her people turn warlike and become more vicious than even their enemies, Red Sonja battles to save Hyrkania from its own army. Racing to the throne, with a price on her head, Sonja finds herself entangled in the charms and wiles of a mysterious and beautiful performer… and when the face of the King is revealed at last, Sonja is captured in intrigues more deadly than any she has known! Continue reading →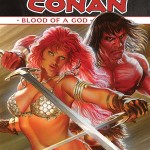 Red Sonja, the fiery She-Devil with a Sword. Conan, the relentess barbarian from Cimmeria. The two legendary heroes of the Hyborian Age are reunited once more, captains in a mercenary army drawn together to wage war on an evil sorcerer. With good swords at their side and loyal men at their backs, Sonja and Conan believe themselves more than capable of defeating Kal'Ang, an ambitious herbalist whose power resides in Blood Root experimentation. But little do they know, a shadow of the past has returned, a foe both familiar and fearsome… and whose secret goal is nothing short of divinity! Continue reading →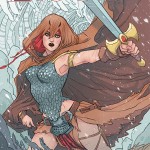 Through the plains of Hyrkania, a message sweeps through the scattered peoples of the nation. Bells ring, horns blow, voices shout – the King is dying! Red Sonja rides to save the King from his doom as the powers of Hyboria crowd around to strike when the kingdom is weakest. But a dread new power rises from within Hyrkania's own borders, bent on defending its homeland – no matter the cost, no matter what its people become. A defining chapter of the Red Sonja saga – dark, clever, vicious, and funny – as the She-Devil with a Sword must stop the rise of a brutal new regime… her own people! Continue reading →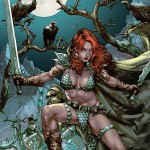 Red Sonja, now older and battle-scarred, has turned away from the warrior's lifestyle of bloodshed and vengeance. As the headmistress of an academy for sword maidens, she prepares a new generation of She-Devils to face whatever conflicts and horrors the Hyborian Age can muster. However, when the fate of the world once again stands upon the edge of blade, Sonja must come out of retirement to wield it! Continue reading →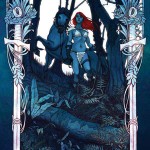 Publisher: Dynamite
Writer: Gail Simone
Artist: Walter Geovani
Editor: Joseph Rybrandt
Release date: OUT NOW!
Price: $3.99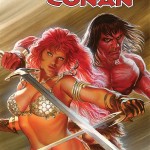 In this issue, Red Sonja and Conan are reunited as captains of mercenary companies who team to fight the forces of an evil sorcerer. Little do they realize that a shadow of the past has returned, something of dire peril from their previous adventures together. It's the Cimmerian and Sonja reunited for more bloody swordplay! Continue reading →