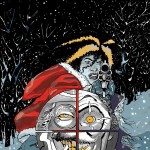 They're back, just in time to celebrate the holidays in bloody style!
Grindhouse is back from the dead, and it's meaner, badder, and dirtier than ever! In the first of four new exploitation opuses, world-renowned artist R. M. Guéra (Django Unchained, Scalped) joins the perverted mind of series writer Alex de Campi (Smoke/Ashes, Lady Zorro) for "Slay Ride," a brutal holiday tale of revenge and supernatural terror in the driven snow! Continue reading →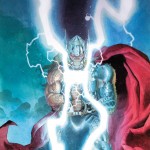 On a bellow of thunder and the crack of lightning comes the Thunder God, one last time!
Marvel is proud to present your first look at THOR: GOD OF THUNDER #25, the oversized final issue from New York Times Bestselling writer Jason Aaron as he assembles a bevy of the industry's greatest artists for a titanic tale that should not be missed! Continue reading →