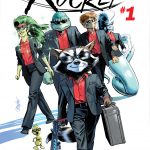 It's a dirty universe out there, even when you're not regularly mistaken for trash-foraging vermin. And it's about to get even dirtier. This May, Rocket Raccoon returns to the stars and returns to a life of crime in ROCKET #1! Strap in and hold on, because creators Al Ewing (The Ultimates, U.S.Avengers) and Adam Gorham (The Violent) are taking you, dear reader, on an out-of-this world caper chock full of action, aliens and all-out adventure! Continue reading →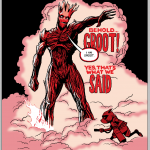 The breakout comic book characters of the year are taking over the covers of your favorite Marvel titles this November! That's right True Believer, ROCKET RACCOON & GROOT VARIANTS are coming, featuring some of the best and brightest talents in the industry! Continue reading →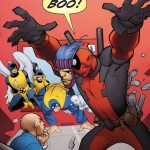 This October, Marvel celebrates its milestone 75th Anniversary – commemorating three quarters of a century of the best stories, the most iconic characters and one of the biggest legacies in entertainment. Oh, and Deadpool. The Merc With a Mouth is invading Marvel's milestone anniversary for a series of special Deadpool 75th Anniversary Variants – as some of the best and brightest in the industry recreate famous covers from the past 75 years guest-starring the regeneratin' degenerate. Continue reading →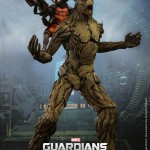 Pick up these movie-accurate collectible figures specially crafted on their likenesses from the upcoming film!
Marvel Studios is expanding the Marvel Cinematic Universe this Summer and bringing fans to the cosmos in the action packed space adventure – Marvel's Guardians of the Galaxy! A group of outlaws, two thugs, an assassin and a maniac will team up to battle evil and save the day! To gear fans up for this film's worldwide release, Hot Toys is excited to present a special 1/6th scale collectible figures set which includes the gun-toting Rocket and his personal houseplant/muscle Groot! Continue reading →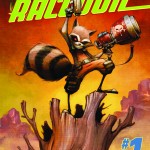 Everyone is talking about Rocket Raccoon #1 and The Legendary Star-Lord #1! Not only have both highly anticipated series hit comic shops already, but Marvel is proud to announce that less than 24 hours after launch both first issues have sold out at the distributor level! Though both titles may still be available at retail level, both first issues will immediately head back for second printings! Continue reading →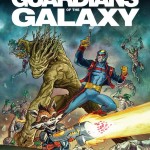 Pick Up The New Book From Disney Publishing For The Young Marvel Fan in Your Life!
With the Guardians of the Galaxy taking the world by storm, younger readers can now get the full scoop on Marvel's cosmic adventurers with Guardians of the Galaxy: Beginnings, now available! Continue reading →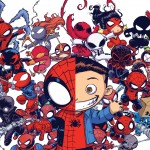 This November, every Spider-Man ever across space and time unite for the epic Spider-Verse event. But first, Marvel is proud to officially unveil the interlocking Spider-Verse variants by Eisner-award winning storyteller Skottie Young! Continue reading →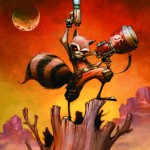 GET YOUR FIRST LOOK HERE!
This July, blast off with the smallest Guardian of the Galaxy (packing the biggest gun) in ROCKET RACCOON #1 – written and drawn by Eisner-award winning storyteller Skottie Young! Marvel is proud to present your new look at this highly anticipated ongoing series launching ahead of one of the biggest movies of the Summer! Continue reading →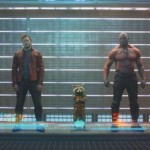 Publicity Finally Surfaces for 'GUARDIANS' Film
According to Variety, Marvel has released a cast shot and synopsis for Guardians of the Galaxy. Continue reading →