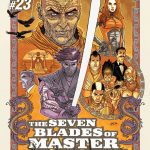 The most daring Ninjak epic of all time is about to begin as Master Darque goes head to head with Valiant's most feared super-spy!!
As revealed today at Newsarama, Valiant is proud to announce "THE SEVEN BLADES OF MASTER DARQUE," beginning in January's NINJAK #23 – the FIRST ISSUE of a blistering ALL-NEW ARC and ALL-NEW JUMPING-ON POINT for MI-6's deadliest covert operative! Continue reading →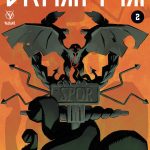 Duty has led to darkness…
Dispatched to the remote outpost of Britannia by Rome's highest power, the ancient world's first detective – veteran legionnaire Antonius Axia – has found himself on a horrifying journey that will challenge everything he knows about death, destiny, and the limits of reality itself. But in this wild and pagan land, far removed from Nero's control and influence, Continue reading →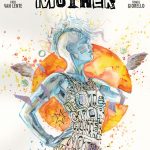 At long last, Valiant is proud to present your first look inside 4001 A.D.: WAR MOTHER #1 – an all-new, self-contained one-shot exploding out of the pages of the summer's most ambitious crossover event and launching a major new character into the future of the Valiant Universe! First announced as a top-secret first appearance spinning out of Valiant's acclaimed 4001 A.D. event, Continue reading →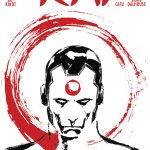 Rocketing out of the pages 4001 A.D…the origin of Rai revealed!
For the first time ever, witness the violent foundation of Father's space-born utopia of New Japan…and, with it, the shocking genesis of the line of guardians that bear the name Rai! Born and bred by Father to enforce peace at any cost, follow the next Rai and their successors across two millennia as they chronicle the history of 4001 A.D. – from the launch of New Japan into orbit to the latest Rai's crusade to bring it crashing back down to Earth! Continue reading →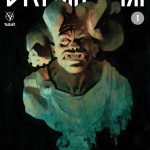 On the fringes of civilization, the world's first detective is about to make an unholy discovery…
Valiant is proud to present your first look inside BRITANNIA #1 (of 4) – the FIRST ISSUE of the all-new, Valiant Prestige format series coming this September from master storyteller Peter Milligan (X-Statix, Detective Comics) and incendiary artist Juan Jose Ryp (NINJAK, Clone)! First revealed at #ValiantSummit 2016 live from New York's Upright Citizens Brigade Theatre, THE FUTURE OF VALIANT Continue reading →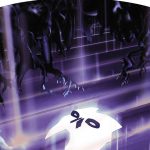 As Rai's rebellion against New Japan rages in the heavens above…a new Shadowman will rise to deliver justice to civilization's darkest reaches in our world and the next!
Valiant is proud to present your first look inside 4001 A.D.: SHADOWMAN #1 – a haunting new adventure bursting from the most ambitious comics event of the year and into an essential, standalone one-shot from rising stars Jody Houser (FAITH) and Rafer Roberts (A&A: THE ADVENTURES OF ARCHER & ARMSTRONG) and acclaimed artist Robert Gill (BOOK OF DEATH)! On July 6th, a blood sacrifice is made, a war looms, and the Deadsids rises…as the mantle of Shadowman passes to one of Earth's forsaken children in the ravaged world of the 41st century! Continue reading →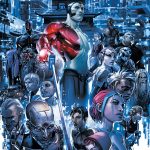 In the tradition of BOOK OF DEATH, ARMOR HUNTERS, and HARBINGER WARS, Valiant's most ambitious crossover event yet starts here! At the dawn of the 41st century, the future of Earth will be decided in the stars. This May…the rebellion begins in 4001 A.D.! Continue reading →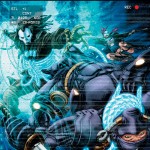 SHADOWMAN VS. NINJAK! Who will live…and what will be left of them?
As Ninjak and Punk Mambo uncover the truth about the land of the dead, Shadowman makes his final move to finally wrest control of the uncanny parallel dimension called Deadside! The terrifying, intense, and heartbreaking return of a Valiant icon comes full circle as master storytellers Matt Kindt and Doug Braithwaite deliver OPERATION: DEADSIDE's riveting finale! Continue reading →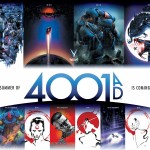 The blockbuster crossover event of the summer is hitting shelves early with an advance sneak peek in Diamond Comics Distributors' March 2016 PREVIEWS catalog – in stores now!
Before 4001 A.D. #1 (of 4) arrives in stores on May 4th, get the jump on the blistering new comics event uniting Rai with the greatest heroes of the 41st century this month in the March 2016 PREVIEWS catalog – featuring an exclusive, 5.5″ x 7.5″ checklist, bound directly into Valiant Entertainment's catalog listings! Continue reading →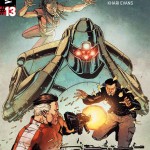 Valiant is proud to present your first look inside IMPERIUM #13 – the FIRST ISSUE of "STORMBREAK," an all-new story arc reuniting HARBINGER's Joshua Dysart (HARBINGER WARS) and Khari Evans (Immortal Iron Fist)! On February 17th, the series named "Best Horror Comic of 2015" by ComicsAlliance unleashes a devastating new jumping-on point as the Valiant Universe comes raging to the doorstep of Toyo Harada's utopia…with Livewire and H.A.R.D. Corps leading the charge to unseat the world's most powerful superhuman! Continue reading →