Program to Produce One-of-a-Kind, Unique and Individually Numbered Variants for Fans!
This January – the small hero with the big time heroics is ready for his shot in ANT-MAN #1, the new ongoing series from critically acclaimed creators Nick Spencer (Superior Foes of Spider-Man, Avengers World) and Ramon Rosanas (Night of the Living Deadpool). But first, Marvel is proud to present your first look at the exclusive Ant-Man #1 Shrinking Variant – available only in comic shops! Continue reading →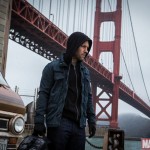 Production on Marvel's 'Ant-Man' has begun, and we've got your first look at Paul Rudd as Scott Lang to celebrate!
Filming on Marvel's Ant-Man has officially commenced, and Marvel are pleased to give you your first look at star Paul Rudd as Scott Lang to celebrate! Continue reading →