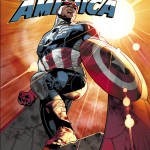 All-New Captain America, Superior Iron Man & Thor are smash hits!
Exciting and ambitious, these Avengers NOW! titles are bringing seismic changes to some of Earth's Mightiest Heroes, reinvigorating and recharging some of the most popular characters in all of fiction. Marvel is pleased to announce that three of these hit titles have completely sold out and will immediately head back to press! Missed out on these energetic and action-packed comics the first time? Now is your chance to get your hands on ALL-NEW CAPTAIN AMERICA #1, SUPERIOR IRON MAN #1 and THOR #2 when they return to comic shops this December! Continue reading →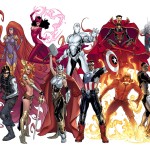 The most popular characters. The most acclaimed creators. The most ambitious stories. This is the recharged Avengers NOW!.
This Fall, the Marvel Universe heads in an exciting and ambitious new direction as the industry's top creators and brightest rising stars join the top Super Heroes – Captain America, Thor, Iron Man and more – to deliver the most exciting and energetic comics on the market with can't miss all-new ongoing series! Continue reading →