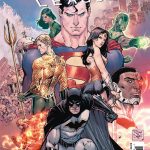 Publisher: DC Comics
Writer: Bryan Hitch
Artists: Tony S. Daniel, Sandu Floroea
Colourist: Tommy Morey
Editor: Brian Cunningham
Release Date: OUT NOW!
Price: $2.99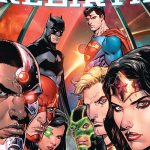 Publisher: DC
Writer: Bryan Hitch
Artists: Bryan Hitch, Daniel Henriques, Scott Hanna
Colourist: Alex Sinclair
Editor: Brian Cunningham
Release Date: OUT NOW!
Price: $2.99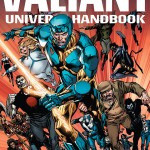 The epic origins! The fearless first adventures! The ever-shifting allies and allegiances! In honor of Valiant's 25th anniversary, get everything you need to know about the most formidable heroes and villains that the Valiant Universe has to offer right here with an all-new 40-page handbook for just $2.99! Continue reading →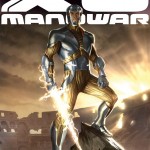 Coming in October!
Valiant is proud to present an advance preview of X-O MANOWAR #0 – a colossal comics milestone and an all-new jumping-on point arriving in October from New York Times best-selling writer Robert Venditti (ARMOR HUNTERS, Green Lantern) and superstar artist Clay Mann (X-Men: Legacy, Gambit)! Continue reading →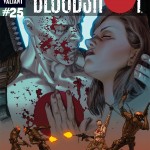 In the tradition of X-O MANOWAR #25, HARBINGER #25, and ARCHER & ARMSTRONG #25… a murderer's row of all-star talents is going all-in for an oversized, 48-page anniversary blowout chronicling the classified history of Valiant's most dangerous, most brutal, most relentless hero – BLOODSHOT!
Continue reading →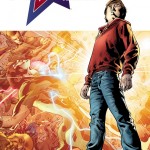 Superpowered Teens Fight For Their Rights in September Graphic Novel
Eighteen years ago, the strange crystal landed in San Francisco, and with it arrived Earth's first super-humans. Every baby born on that day has a power. All but one — Tommy Watts, nicknamed "Zero." Until one day, he does. Continue reading →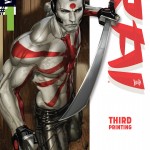 RAI #1 THIRD PRINTING | X-O MANOWAR #25 SECOND PRINTING
Valiant is proud to announce that two of May's most high-profile releases – RAI #1 and the oversized X-O MANOWAR #25 anniversary spectacular – have sold out at the distributor level and will soon return to store shelves with all-new printings in June and July! Continue reading →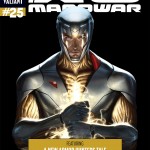 GET YOUR FIRST LOOK HERE!
Before ARMOR HUNTERS strikes this summer, discover the life and times of Valiant's armored champion with an all-star anniversary celebration that's getting bigger by the minute! Continue reading →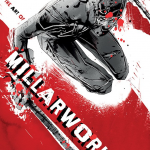 Hardbound Book Features Art of Mark Millar's Collaborators
In his twenty-five year career in the comic book industry, writer Mark Millar has worked with many of the medium's top artists, both in his work for DC and Marvel and, most importantly to him, his creator-owned work. Continue reading →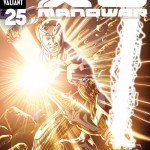 With VENDITTI, HITCH, JONES, JORDAN, MILLIGAN and More!
Valiant is proud to announce that it is pulling out all the stops for X-O Manowar #25 – the publisher's first 48-page anniversary spectacular from ongoing series creators Robert Venditti and Diego Bernard, and an all-star cast of special guests including Bryan Hitch, J.G. Jones, Justin Jordan, Peter Milligan, Rafer Roberts, and more! Continue reading →