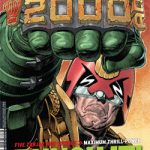 Publisher: 2000 AD Rebellion
Writers: John Wagner, Dan Abnett, Andrew Williamson, Ian Edgington, Kek-W
Artists: Carlos Ezquerra, INJ Culbard, Tilen Javornik, D'Israeli, Dave Kendall
Release date: UK & Digital 22 March 2017/ North America 22 April 2017
Price: UK & Digital £2.65 North America $7.99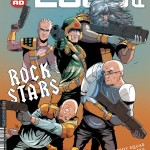 Publisher: 2000 AD Rebellion
Writers: Rob Williams, Kek-W, Pat Mills, Dan Abnett, John Wagner,
Artists: D'Israeli, John Burns, Clint Langley, Richard Elson, Carlos Ezquerra, Jon Davis-Hunt (Cover).
Letters: Annie Parkhouse, Ellie De Ville, Simon Bowland
Release Date: UK & Digital 2 March 2016 /North America 2 April 2016
Price: £2.55/$2.99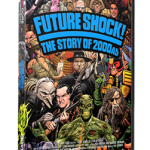 Studio: Metrodome
Director: Paul Goodwin
Producers: Sean Hogan, Helen Mullane
Featuring: Karl Urban (Dredd), Neil Gaiman (The Sandman), Paul Gravett (Comic Book Historian), Pat Mills (ABC Warriors, Slaine), Carlos Ezquerra (Judge Dredd), Matt Smith (2000 AD Editor) and Dave Gibbons (The Watchmen).
Extras include:
94 PAGE PDF 2000AD
ORIGINS E-COMIC 10 First Episodes from some of 2000 AD's Greatest Characters! Including: Judge Dredd, Rogue Trooper, Slaine, Nemesis The Warlock, Strontium Dog, Halo Jones, Nikolai Dante, A.B.C Warriors, Kingdom, Shakara.
Running Time: 106 Minutes
Release Date: OUT NOW!
Price: £7.99/ £3.49 Amazon Instant Video. Also available VOD: iTunes, Google, PlayStation Store, XBox Video and Sky Store.
http://futureshock2000ad.com/index.html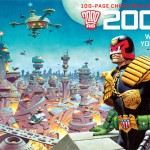 Publisher: 2000 AD Rebellion
Writers: Rob Williams, Gordon Rennie, Dan Abnett, Jonathan Green, Kek-W, Martin Feekins, John Wagner, Pat Mills
Artists: Ian Kennedy (Cover), Henry Flint, Tiernen Trevallion, Richard Elson, Tom Foster, John Burns, Jesus Redondo, Carlos Ezquerra
Letters: Annie Parkhouse, Simon Bowland, Ellie De Ville,
Release Date: UK & Digital 16 December 2015/North America 16 January 2016
Price: £4.99/$2.99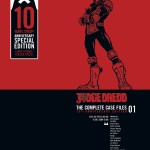 Publisher: Rebellion/2000 AD
Writer: Pat Mills, John Wagner
Artist: Carlos Ezquerra, Mick McMahon, Brian Bolland
Release date: 13 August 2015
Price: £35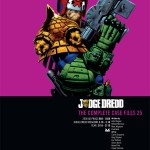 Publisher: 2000 AD
Writers: John Wagner, John Smith, Marc Wigmore, Robbie Morrison, Paul Neal
Artists: Alex Ronald, Carlos Ezquerra, Lee Sullivan, Greg Staples, Simon Davis, Peter Doherty, Tom Carney, Trevor Hairsine, Henry Flint, Paul Marshall, Marc Wigmore, Jason Brashill, Paul Peart
Release date: 13 August 2015
Price: £19.99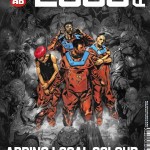 Writers: Rob Williams, Arthur Wyatt, Pat Mills, Dan Abnett and John Wagner
Artists: Henry Flint, Jake Lynch, Simon Davis, Mark Harrison and Carlos Ezquerra
Cover artist: Mark Harrison
Colourist: Henry Flint, Jake Lynch, Simon Davis, Mark Harrison and Carlos Ezquerra
Release date: April 27, 2015 (UK); May 27,2015 (USA)
Price: £2.75 (UK); $2.99 (USA)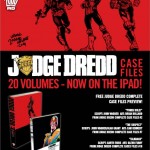 20 volumes of the best-selling Judge Dredd Complete Case Files graphic novel series on iOS!
Almost three decades of Dredd are available worldwide and ready to download right now on iPad, iPhone, and iPod Touch.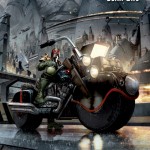 The Legendary Lawman's Early Days to Be Chronicled in Upcoming Miniseries!
Though Judge Joseph Dredd's exploits have changed the post-apocalyptic sprawl of Mega-City One forever, there was a Mega-City One before Dredd ever hopped aboard a Lawmaster. In March 2013's JUDGE DREDD: YEAR ONE, Eagle Award-winning 2000 AD Editor-in-Chief Matt Smith takes up arms with Dredd veterans Simon Coleby on interiors and Greg Staples on covers to deliver the thrilling exploits of a younger Judge Dredd!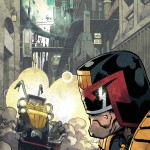 The acclaimed creators will take readers to Mega-City One this winter!
After announcing their partnership with the legendary 2000 AD at WonderCon 2012, IDW Publishing is proud to announce Duane Swierczynski and Nelson Daniel as the creative team for their brand-new JUDGE DREDD series!