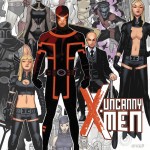 Publisher: Marvel Comics
Writer: Brian Michael Bendis
Artists: Sara Pichelli, Mahmud Asrar, Stuart Immonen, Kris Anka, Chris Bachalo, David Marquez, Frazer Irving
Colourists: Marte Gracia, Jason Keith
Editors: Mike Marts, Mike Paniccia
Release date: OUT NOW!!
Price: $5.99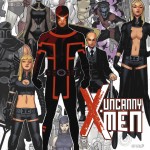 This November, cap off this era of Marvel's mutants with an epic bang. Today, Marvel is pleased to present your new look at UNCANNY X-MEN #600 – the finale of Brian Michael Bendis' epic X-Men saga. Brought to life by A-list creators – Uncanny X-Men #600 features 38 pages of new content from Stuart Immonen, Chris Bachalo, Sara Pichelli, David Marquez, Mahmud Asrar, Kris Anka and Frazer Irving – mutant history will be made! What will become of Scott Summers' mutant revolution? What will become of the Jean Grey School and the New Xavier School? Find out as in this explosive final chapter! Be there as UNCANNY X-MEN #600 hits comic shops and digital devices this November! Continue reading →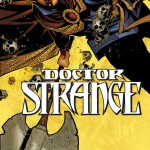 The Sorcerer Supreme returns for his first ongoing series in nearly twenty years, and he's making house calls! Today, Marvel is pleased to present your first look inside DOCTOR STRANGE #1, the new ongoing series from blockbuster creators Jason Aaron (Star Wars, Thor) and Chris Bachalo (Uncanny X-Men, Avengers)! Prepare for a side of the Marvel Universe you've never seen before as the magical, mystical and all things weird lie at every turn! And if you don't know where to turn – call the Doctor. From inside his Sanctum Sanctorum – the Master of the Mystic Arts defends the Marvel Universe from any and all supernatural threats. Continue reading →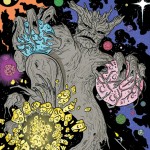 When monsters ruled the Marvel Universe, the wildly imaginative brain and pencil of Jack Kirby brought dozens upon dozens of these creatures to life. Monster comics may be a thing of the past, but Marvel is celebrating their legacy this October with over twenty-five KIRBY MONSTER VARIANTS coming to some of Marvel's biggest new titles!  Featuring some of the industry's most legendary and iconic artists, witness the inimitable imagination of Jack Kirby brought to life by Geof Darrow, Paul Pope, Art Adams, Eric Powell, Simon Bisley, Cliff Chiang and many, many more! Continue reading →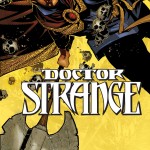 The Sorcerer Supreme returns for his first ongoing series in nearly twenty years!  And he's making house calls! Today, Marvel is pleased to announce DOCTOR STRANGE #1 – a new ongoing series from blockbuster creators Jason Aaron (Star Wars, Thor) and Chris Bachalo (Uncanny X-Men, Avengers)!   Continue reading →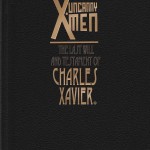 A Tie-In to ORIGINAL SIN!
This July, the X-Men crash headlong into Original Sin in Uncanny X-Men #23 – from New York Times Bestselling writer Brian Michael Bendis and rising star artist Kris Anka! Continue reading →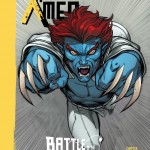 BATTLE OF THE ATOM CONTINUES!
This October, the X-Men event of the year heats up as Battle of the Atom rages on in Uncanny X-Men #13!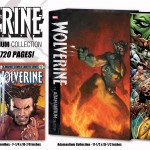 Wolverine is the best there is at what he does, and this June find out why in the MASSIVE, Wolverine: Adamantium Collection HC! This all-new Mighty Marvel Format (the self-proclaimed, Adamantium Sized) , presented at over one foot tall, packed with 720 pages, and weighing in at 16 pounds, chronicles the best moments from Wolverine's long and storied past by the greatest creators in Wolverine history! Now for the first time, fans can witness the transformation of sickly James Howlett into the battle-hardened Logan, and then into the metal-clawed super hero called Wolverine in this jaw dropping new format.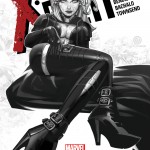 Marvel is pleased to present your first look at Uncanny X-Men #2, from the chart-topping dream team of Brian Michael Bendis (All New X-Men) and Chris Bachalo (Wolverine & The X-Men). Unaware there's a traitor in their midst, the new team of X-Men brought together by Cyclops enact the first step of their mutant revolution—which means finding out who's let loose a new army of Sentinels. The truth will shock you! But just what does this all mean for Emma Frost?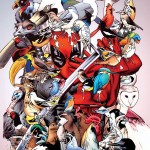 Marvel NOW! brings readers Deadpool, the most patriotic and educational new comic book series of the century! Providing readers with a completely (not) 100% accurate depiction of American history, the most famous presidents and their very real modern day exploits as zombies, there's no X-Man more perfect than Deadpool for the most American variant cover of all. Marvel is pleased to unveil the Uncanny X-Men #1 53 State Birds Variant, by superstar artist Stuart Immonen, bringing all 52 state (and territories) birds (+1)* to life on one cover. That's like 52 (+1)*  state variants for the price of one! Calling all bird watchers, this one of a kind variant featuring all of America's greatest feathered patrons is a must have for any fan!