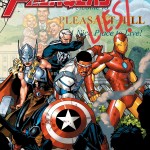 Publisher: Marvel Comics
Writer: Nick Spencer
Artist: Jesús Saiz
Colourist: Jesús Saiz
Editor: Tom Brevoort
Release Date: OUT NOW!
Price: $3.99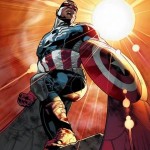 Sam Wilson's not the first super hero to step in for Steve Rogers!
In case you missed last week's big news, Sam Wilson will be the star of a new ongoing series starting this fall—but he won't be taking center stage as the Falcon. No, Sam will be soaring into the spotlight as the titular hero in ALL-NEW CAPTAIN AMERICA by Rick Remender and Stuart Immonen! Continue reading →

Rick Remender and Tom Brevoort speak on Falcon becoming Cap, what's next for Steve Rogers and more!
Robbed of his superior strength and vitality, Steve Rogers must surrender his blues for a sturdy cane. He's not about to fade away just yet though. The old maxims hold true: If dead men declared the war and old men talk about it, a young man must rise and continue the fight. If Steve Rogers can no longer hurl his mighty shield, then he'll hand it to one who can carry it across the battlefield, above the clouds, to greater heights than ever before. Continue reading →