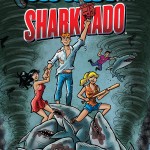 It's that time of year in Riverdale! The end of the school year.  Time for beaches, barbecues, fun in the sun and… SHARKNADOS!?!  That's right, get ready as Archie and the gang brave the storm of a tornado full a sharks that riffs off the pop culture phenomenon known as Sharknado! The story unfolds as sharknados are spotted on the "Feast" Coast! Our heroines have to figure out how to get back to Riverdale, where the storm is about to hit next. Soon Archie and the gang go, go, go as they battle the Sharknado-ravaged Riverdale! Who will live? Who will die? Will this take a BITE out of the end-of-the-year prom? Uh….probably! Continue reading →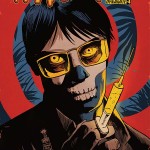 It's a bloodbath, as only Reanimator can deliver! Herbert West and Susan Greene have survived the terrible truth of their shared past:
the stalking, the murder, the experiment gone mad. But will they live through the mayhem when two cartels go to war over the Reanimator's drug lab? It's the Elder God-empowered Eldritch Krewe versus the Gris-Gris Boyz, a gang steeped in Louisianan Voodoo, with our two mad scientists stuck in the middle. Zombies, tentacles, black magic, hybrid creatures… the epic horror miniseries reaches its explosive conclusion! Continue reading →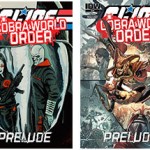 This October, it's zero hour for A Real American Hero! G.I. JOE has been fighting the evil forces of COBRA for decades, but now COBRA is ready to unleash its master plan on an unsuspecting G.I. JOE!
Written by the man who started it all, G.I. JOE comics legend Larry Hama, this table-setter leads into a mammoth 8-part bi-weekly event, kicking off with G.I. JOE: ARAH #219 and #220! Art duties for this arc will be in the very capable hands of S.L. Gallant who has become a fan-favorite for his attention to detail and accurate portrayals of classic G.I. JOE vehicles and characters.
Continue reading →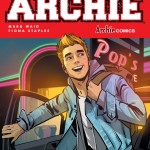 COMIC SUPERSTARS MARK WAID AND FIONA STAPLES REIMAGINE AN ICON! Change is coming to Riverdale in this can't-miss kick-off to Archie's new ongoing series! Familiar faces return in new and unexpected ways in this must-have #1 issue! As the new school year approaches, you'd think Archie Andrews would be looking forward to classes and fun—but nothing is as it seems in the little town of Riverdale. But is this a one-off or a sign of bigger changes awaiting for America's favorite teens—and the entire town? Find out in this exciting and remarkable first issue! Continue reading →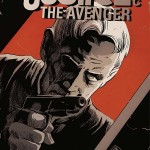 Richard Benson confronts the Invisible Death – but not before more killers can invade the headquarters of Justice, Inc. and take the fight to Benson's own doorstep! Alone and unaided, Benson's agents have to defend their fortress. Mark Waid, the award-winning writer behind Kingdom Come and Daredevil, continues his latest tour-de-force with the pulp hero he's waited his entire lifetime to write! Continue reading →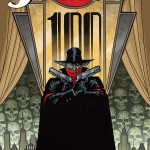 For 100 Dynamite issues, The Shadow has known what evil lurks in the hearts of men. To commemorate, Dynamite Entertainment brings together master storytellers to celebrate the purveyor of justice who proves that crime does not pay. Join MATT WAGNER, HOWARD CHAYKIN, and FRANCESCO FRANCAVILLA as they pen, pencil, and ink stories so mesmerizing they don't even need a girasol! Also joining us will be The Shadow alumni MICHAEL USLAN, CHRIS ROBERSON, and VICTOR GISCHLER, paired with top artists, to show the weed of crime bears only bitter fruit! This is ONE centenarian celebration you WON'T want to miss. Continue reading →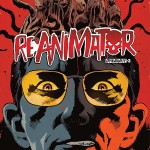 When Susan Greene joined Dr. Herbert West as his new assistant, she'd craved the forbidden thrills of his unorthodox experiments –
the awakening of zombies, stitching together new lifeforms, refining narcotics from undead brain fluid, and more. But once she uncovered the Reanimator's terrifying secret, she's been overcome with suspicion and doubt. Now, she'll finally get the answers she seeks… but Continue reading →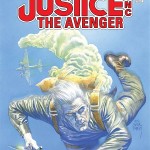 Meet Richard Henry Benson–the Avenger! His pallid features forever deadened by a criminal act, he is the ultimate master of disguise and uses his skills to mete out retribution to those who would prey on the innocent! But can even Benson triumph over an Invisible Man…? Fan-favorite writer Mark Waid – who is hotter than ever thanks to his work on Daredevil and Star Wars: Princess Leia – brings his personal favorite pulp hero back to comics with all-new, explosive adventures! Continue reading →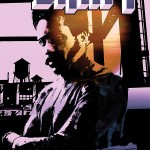 The critically acclaimed comic book debut of Shaft comes to a violent end in a hard-boiled climax of retribution, revenge, and betrayal. The first big case of private detective John Shaft's career has come with a high price. Shaft has it all figured out, but the bodies haven't finished dropping, and there are still scores to settle. With the ghosts of his past looking over his shoulder, and his enemies in his sights, Shaft makes his final play. Continue reading →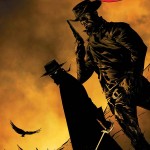 The epic pairing of these legendary heroes reaches its smashing conclusion in an extra-long, nail-biting finale. The action boils over this issue as both Django and Zorro battle to defeat the powerful Archduke of Arizona and shatter his sinister hold over the indigenous Yaqui people. Django finds he can no longer sit still as he sees an entirely different race enslaved under the yoke of a cruel master. And Diego de la Vega must deal with stunning heartache and loss even as he pushes ahead in his never-ending quest for justice. 30 pulse-pounding pages of story and art provide a rousing finish to this spectacular and ground-breaking series Continue reading →