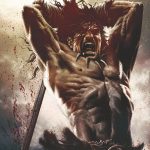 Conan the Slayer #1
Cullen Bunn writes Conan!
Alone, battle weary, and with nothing but his sword, Conan of Cimmeria faces his inevitable death in the arid wastes . . . but instead stumbles into a camp of Kozaki raiders. With a knife at his throat and a band of Turanian hunters at his back, will the half-dead barbarian find a new ally in the Kozaki chief? Continue reading →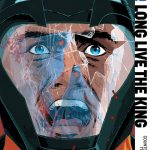 As the countdown to X-O MANOWAR's landmark issue #50 finale continues, our world's greatest hero must join forces with his own bitterest foe to prevent armageddon!
Valiant is proud to present your first look at X-O MANOWAR #48 – the cataclysmic continuation of the year's seismic storyline, "LONG LIVE THE KING," by New York Times best-selling writer Robert Venditti (Hal Jordan and The Green Lantern Corps) and acclaimed artists Joe Bennett (52) and Roberto de la Torre (Daredevil)! Continue reading →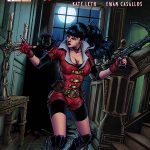 After receiving a threatening invitation to a party at Slade's manor, Vampirella and her coven of friends are forced to walk into an obvious trap. Can they outwit Slade at her own game, or will things get even bloodier? Continue reading →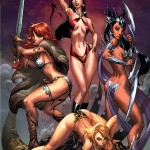 COLLECTS ISSUES ISSUES 1-6 OF THE MAIN SERIES ALONG WITH ALL 15 TIE-IN ISSUES AND MINI-SERIES!
Dynamite's fiercest females appear in a massive genre-spanning crossover event featuring an all-star line-up of female authors, headlined by Gail Simone (Batgirl, Birds of Prey)! The ultimate pulp adventure features Vampirella, Dejah Thoris, Red Sonja, Purgatori, Lady Demon, Chastity, Jungle Girl, Jennifer Blood, Kato, Lady Zorro, and many, many more! Continue reading →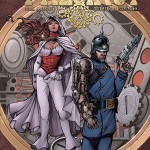 The steampunk police procedural continues! Mort and Jo face off against a monstrous machine, while the Alchemy Academy makes bold political moves behind the scenes. Action, magic, and political intrigue await in The Precinct from Frank J. Barbiere (Howling Commandos of SHIELD, Five Ghosts) and Crizam Zamora (Vampirella: Prelude to Shadows)! Continue reading →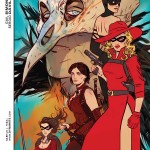 The wildest Dynamite crossover epic ever told continues at whole cities are smashed together in the prelude to inter-dimensional war! It's Martians versus Monsters versus Barbarians and more, with the women of Chaos on the wrong side of Good Vs. Evil…plus, where are Red Sonja, Vampirella and Dejah Thoris in their worlds' time of need? Guest stars galore in this massive tale of battle, blades and bikinis! Continue reading →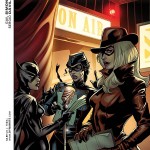 The genre-busting, time-hopping epic heroine crossover continues! In the midst of WWII, reluctant allies Miss Fury and the Black Sparrow are joined by an epic host of heroines from different worlds and eras to fight an invasion taking place right on Broadway! Featuring Red Sonja, Eva (the daughter of Dracula), Lady Zorro, and more! Don't miss the funnest, bawdiest, sword-slingingest crossover event ever! Continue reading →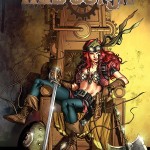 After franken-monsters, submarine escapes, shark attacks, and shipwrecks, can a mentally and physically exhausted Red Sonja defeat the evil of Victor Frankenstein before he unleashes his master plan upon the world of Legenderry? What new monstrosities have sprung from Victor's deranged and fractured psyche? And will the "rebuilt" Captain Nemo and Elizabeth Frankenstein help Red Sonja's cause…or be the death of her? Find out all of the answers in the stunning conclusion to Red's first Legenderry solo adventure! Continue reading →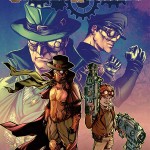 This is it–the climax to the action packed series! The Green Hornet and Brass Hornet throw down with the Veiled Lady and BlackMass, while Kato and Grimes take on Tik-Tok's Deacons. It's steampulp / kung fu madness! Continue reading →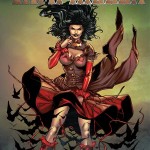 Vampirella Vs. Everybody, Round Five. She fights the Black Bat, the Council, a great big Zeppelin and her own
conflicted feelings. Plus, Black Mass returns, truths are revealed, and election results are questioned. Continue reading →