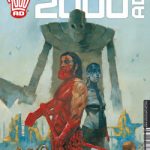 Publisher: Rebellion Publishing
Writers: TC Eglinton, James Robinson, Dan Abnett, Pat Mills, John Smith & Kek-W
Artists: Colin MacNeil, Leonardo Manco, Mark Harrison, Simon Davis (and cover), Lee Carter
Colourist: Chris Blythe
Letters: Annie Parkhouse, Simon Bowland, Ellie De Ville,
Release Date: UK & Digital 27 September 2017/North America 27 October 2017
Price: £2.65/$7.99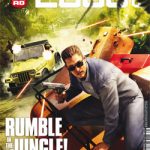 Publisher: 2000 AD Rebellion
Writers: Michael Carroll, Dan Abnett, Pat Mills, James Peaty, Gordon Rennie, Alex Ronald (Cover)
Artists: Paul Marshall, Mark Harrison, John Higgins, Andrea Mutti, PJ Holden
Colours: Quinton Winter, Sally Hurst, Len O'Grady
Letters: Annie Parkhouse, Elle De Ville, Simon Bowland,
Release Date: UK & Digital 26 July 2017/North America 26 August 2017
Price: UK £2.65/North America $7.99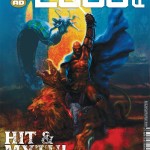 Publisher: 2000 AD Rebellion
Writers: Michael Carroll, Gordon Rennie & Emma Beeby, KEK-W, Rory McConville
Artists: Colin Macneil, Neil Googe, Dave Kendall, Joshua George, Paul Davidson, Liam Sharp (Cover)
Colourist: Len O'Grady, Gary Caldwell
Lettering: Annie Parkhouse, Ellie De Ville, Simon Bowland
Release Date: UK 13 April 2016/North America 13 May 2016
Price: UK £2.55/North America $2.99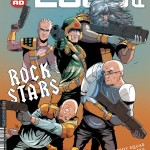 Publisher: 2000 AD Rebellion
Writers: Rob Williams, Kek-W, Pat Mills, Dan Abnett, John Wagner,
Artists: D'Israeli, John Burns, Clint Langley, Richard Elson, Carlos Ezquerra, Jon Davis-Hunt (Cover).
Letters: Annie Parkhouse, Ellie De Ville, Simon Bowland
Release Date: UK & Digital 2 March 2016 /North America 2 April 2016
Price: £2.55/$2.99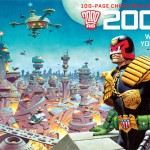 Publisher: 2000 AD Rebellion
Writers: Rob Williams, Gordon Rennie, Dan Abnett, Jonathan Green, Kek-W, Martin Feekins, John Wagner, Pat Mills
Artists: Ian Kennedy (Cover), Henry Flint, Tiernen Trevallion, Richard Elson, Tom Foster, John Burns, Jesus Redondo, Carlos Ezquerra
Letters: Annie Parkhouse, Simon Bowland, Ellie De Ville,
Release Date: UK & Digital 16 December 2015/North America 16 January 2016
Price: £4.99/$2.99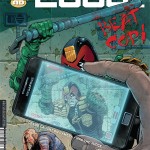 Publisher: 2000 AD Rebellion
Writers: John Wagner, Pat Mills, Ian Edginton,
Artists: Leigh Gallagher (Cover), Patrick Goodard, Leigh Gallagher, INJ Culbard, Rufus Dayglo & McCarthy
Colourists: Adam Brown
Letters: Annie Parkhouse, Ellie De Ville, Simon Bowland
Release date: UK & Digital 2 December 2015 /North America 2 January 2016
Price: £2.55/$2.99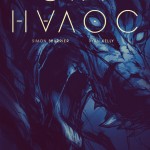 X-Men Legacy writer Simon Spurrier and superstar artist Ryan Kelly present fiends, fragility, and firepower in an all-new series called, CRY HAVOC.
"Folklore is saturated with monsters," said Spurrier. "Centuries ago these wonderful fictions were at the bleeding-edge of the Zeitgeist, but they've faded from relevance. Cry Havoc asks what happens when those bright-eyed and bloody-fanged stories force themselves back into the modern limelight. Who resists them, and who gets caught in the middle?"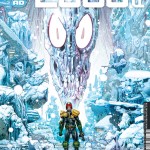 Publisher: 2000 AD
Writers: Michael Carroll Gordon Rennie TC Eglington Ian Edginton
Artists: Chris Blythe and Annie Parkhouse, Tiernan Trevallion, Len O'Grady, Karl Richardson, D'Israeli Glenn Fabry & Ryan Brown (Cover)
Release date: UK & DIGITAL: OUT NOW!!!! North America 29 August 2015
Price: £2.45/$2.99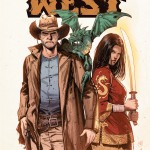 This November, award-winning writer Greg Pak makes his Dark Horse debut with Kingsway West, his first creator-driven original series!
After thirteen years in prison, a Chinese gunslinger named Kingsway Law just wants to find his wife. But in a fantastical American Old West crackling with magic, monsters, and racist vigilantes, trouble just won't leave him be. And in this case, trouble is a woman with a magic sword who needs his help. Continue reading →